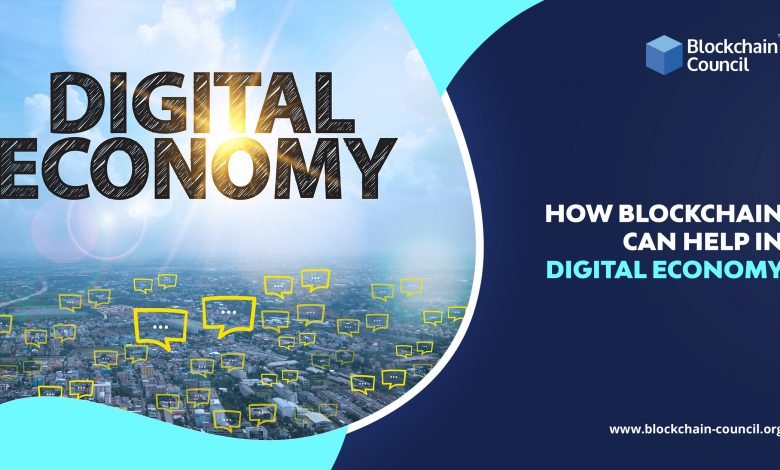 Are you a Blockchain enthusiast? Wondering how Blockchain Technology and decentralization help in today's digital economy? You have landed on the right page. 
Table of Contents 
The Advent of Blockchain

Role of Blockchain and Decentralization in Digital Economy 

Concluding Lines 
The Advent of Blockchain
Introduced in 2008, Blockchain is a peer-to-peer, decentralized distributed ledger technology that records transactional data in an immutable and transparent manner without involving third-party intermediaries. The logic behind this futuristic technology is to bypass delegates by creating a network where each user can observe and verify data stored in a distributed decentralized database. While the concept may sound baffling and complicated due to its high potential, it is actively being included for various purposes, including building and supporting the digital economy.
To appreciate the potential of Blockchain, we need to understand how technology works and what its key characteristics are. If you are a beginner and want to get started from scratch, you can get enrolled in Blockchain Council and become a Certified Blockchain Expert.
Role of Blockchain and Decentralization in Digital Economy 
Now, as we have understood what Blockchain is, let's understand how technology is the key to compete in today's digital economy. 
Technology can effectively hold the key to compete with large tech companies that are basically dominating most of the digital goods and services. By utilizing decentralized technologies, such as Blockchain, enterprises and even startups can compete with centralized goods and services by offering products that are not only safer but also cost-efficient. Leveraging Blockchain helps companies with better transparency, improved efficiency, increased security, enhanced traceability, and most importantly, eradicates intermediaries costs. 
When it comes to verifying data sets that are crucial to carrying out digital transactions, distributed ledger technologies like Blockchain can play a notable role. This is because technology is connected with a reduction in various key costs that a company acquires.
By recording transactional data on an immutable ledger, the cost of substantiating and verifying any transaction in the digital medium can be reduced to a great extent. Unlike the traditional approaches where organizations need third-party intermediaries to verify, audit, and confirm digital transactions that take place, Blockchain can make this verification process easy with the help of lucrative use of digital ledgers by providing cheaper and more viable forms of settlement and networking.
Privacy and security are the prime concerns in today's digital economy. Unlike traditional databases that are governed by a central authority, Blockchain, which is a distributed ledger technology, ensures privacy and security. This is because it has an immutable ledger which ensures that no one can alter or modify the stored data. In fact, hacking a blockchain means hacking all the computers, which are part of the networks, which is almost inconceivable. Thus, Blockchain ensures that data is secured and remains intact, helping in maintaining and advancing the digital economy. Due to this, technology has been successfully implemented in a variety of industries, including finance, healthcare, logistics, supply chain, art and entertainment, and many others.
Blockchain is the result of an ideological open-source revolution and enables the sharing of assets through a technical layer that sits on top of the internet. As technology continues to hold notable disruptive potential for changing the way companies and authorities interact, decentralized platforms could eventually overtake current platform-based market models like Facebook, Uber, Amazon, etc., bringing a new definition in the digital economy.
Are you looking for Blockchain Certification Courses? Get started today with Blockchain Council. 
Concluding Lines 
Encouraging the concept of Blockchain, decentralization, and all those business models which don't rely on predatory organizations can help in enhancing the overall digital economy and can give power back to the people. But this disruption won't happen overnight. Blockchain-based innovations will have exponential impact over time on governance models and organizations of all sizes. The path of moving from centralization to decentralization can definitely give a new definition to the digital economy. 
The scope of Blockchain is booming and showing no sign of slowing down. If this domain interests you, you can get enrolled in Blockchain Council and become a Certified Blockchain Expert. 
To get instant updates about Blockchain Technology and to learn more about online Blockchain Certifications, check out Blockchain Council.