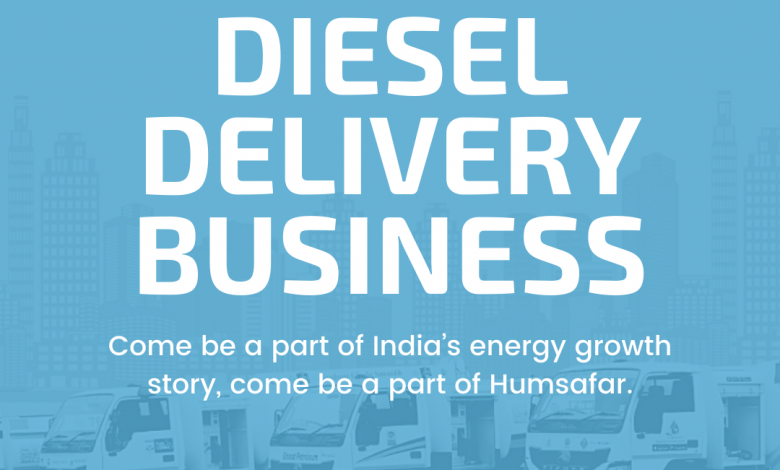 Fuel delivery is an invaluable service that adds convenience to a consumer's life by making fuel available safely at the desired location. Doorstep Diesel Delivery service has been the backbone of the fuel industries of many countries. However, in India, it is in its nascent stages.
It was the game-changing amendment to the petroleum regulations by the government of India in 2018-2019 that permitted the doorstep delivery of fuel and opened up new vistas of opportunities in the fuel industry of India for startups to avail.
This opportunity is supplemented by the fact that India is a developing nation with booming automotive and construction industries. Both of which are the primary seekers of the 'diesel at doorstep service'. Permitting door-to-door delivery of High-Speed Diesel (HSD) for stationary equipment, machinery, and heavy equipment, further enhances the scope for the industry.
The Government of India has therefore taken out a comprehensive list of steps that allow startups and interested professionals to become Fuel-Ents (fuel entrepreneurs):
One needs to have the company registered as a startup
2.The registration fees per startup amount to Rs. 10,000 (plus taxes)
3. A security deposit of Rs. 1,00,000 is required for each OMC
4. A selection of supply locations that the business would cater to
5. Availability of parking premises
6. Strict adherence of all SOP's put forth by PESO/OMC supply location
7. Post tender approval for DDD FuelEnt must have PESO approved Geo-Fencing Enabled Bowsers within three months of signing the provisional agreement.
Humsafar is a veteran player in the Indian Fuel Industry and comes with an experience span of 75years. Leveraging its in-depth industry knowledge and experience, Humsafar fabricates state of the art PESO approved bowsers and offers partnerships to FuelEnts. The partnerships enable the new entrants to set up a strong foundation for their budding businesses and scale it further with the expertise provided by Humsafar, who handhold the startups from the beginning and "fuels" their flight to the pinnacle of success.
Humsafar's technological prowess will also aid the startups in terms of its user-friendly app- Fuel Humsafar, which allows full tracking of the order and automated billing and other services.
Providing end-to-end solutions, Humsafar will also guide the startups in creating invaluable connections in the industry and earning new clients with specialized marketing and sales services.
With a small investment, new entrants can now earn lucrative profits once they join hands with Humsafar! Furthermore, please refer to the attached FAQ for answers to all your queries.
FAQs
1. What is permitted for Doorstep Diesel Delivery as per policy, PESO approval?
As per PESO(Petroleum, Explosives and Safety Organisation), door-to-door delivery of High-Speed Diesel (HSD) is permitted for stationary equipment, machinery, and heavy equipment. These may be located in specific customer sites, dedicated customer Industrial zones, equipment operating in mines, construction sites, agricultural machinery, diesel generators, other machinery, etc, which cannot come to the service station for refueling.
2. How will a FuelEnt/ Startup get a supply of diesel in doorstep diesel delivery?
FuelEnt/ Startup gets the supply of HSD directly from OMC's Retail outlets and Supply locations.
3. Is the Doorstep Diesel Delivery business model here to stay?
Under the aegis of the Ministry of Petroleum & Natural Gas, has envisaged this novel concept of reaching HSD to the doorsteps of these customers through startups. Further, there is a considerable demand for HSD at their doorsteps from customers permitted under the policy having stationary equipment like generator sets, earth moving equipment, heavy machinery used in construction sites, mobile towers, etc.
4.Under DDD, can a Bowser fill up barrels or fuel tanks of buses/ trucks?
Currently, PESO has not permitted filling HSD in barrels or fuel tanks of buses/trucks.
5.Can petrol be marketed under the DDD scheme?
No, Petrol cannot be marketed under the DDD scheme as per current Government policy.
6. What are the pre-requisites for becoming a FuelEnt?
FuelEnts are Pvt Limited/LLPs startups registered with one or more Oil Marketing PSUs, have supply arrangments made with Oil marketing companies and Petrol pump dealers, and have specially fabricated Geo fenced Door delivery Bowsers.
7. Can Diesel Door Delivery be made 24*7?
As per PESO guidelines, Diesel Door delivery can be made from sunrise to sunset.
8. Is the Diesel Delivery Model profitable?
On average, one KL of Diesel gets a margin of Rs 1800 per Kilo litre. Besides, FuelEnts may charge a Convenience/transportation fee for the service, transportation on a case-to-case basis.
9. How would you help in Marketing, and what are the charges for the service?
With over 75 years of experience in the fuel retail business, Humsafar has a business tie-up with major industrial and construction companies in the NCR area. With this experience and the Territory Managers appointed at all the major cities across the country, Humsafar will facilitate its customers in aggregating Diesel volumes. This service is provided free of charge. Humsafar has Social Marketing, Digital Marketing, and Media Relations Teams. These are also made available to FuelEnts.