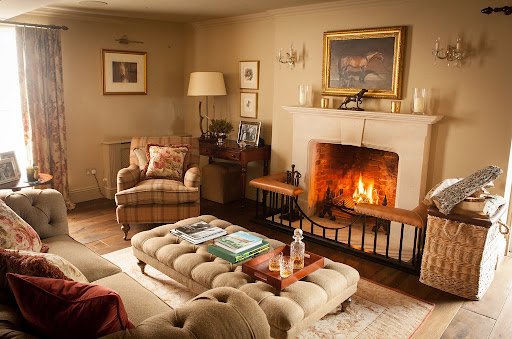 We're officially in the midst of October. And while some of us yearn for the fallen leaves, build up to Halloween and Autumn/Winter fashion, some of us loathe the dark mornings and early sunsets, cold weather and the disappearance of that summer feeling. However, regardless of how you feel, one aspect that needs to be accommodated and prepared for a seasonal change is your home. As the days get colder and become shorter, it's likely that you'll be spending an increased amount of time indoors, so as its early autumn, now is a great time to prepare your house and make it nice and cosy in preparation. Additionally, ensuring your house is warm and inviting is a great way to show guests and prospective buyers that your home is sustainable throughout the colder months. If you're wondering "how can I sell my house fast?", perhaps taking the necessary steps to make your home nice and cosy is a great way to help your property on the market. Here at We Buy Any House we have compiled our most helpful tips.
Prepare Your Home Canvas:
Before you begin to make your home a cosy space, it's important to start with a space that you can clean and declutter before anything else. Clutter doesn't help in making your home feel cosy, and it's almost impossible to keep on top of a cosy-home aesthetic if you can't clean your surroundings.
Use a Fireplace Correctly:
If you picture a cosy home, the first image that comes to mind is a fireplace. Nothing says warm and cosy like sitting by a warm, open fire. If you have a fireplace that has a chimney, then it's a good idea to use a chimney sweep to clean and inspect the inside of your chimney for cracks and damage.
Add Candles:
Candles are a staple for most homes, as not only do they smell amazing, but they create a warm and soothing ambiance throughout your home. They are essential throughout the colder months, and you can pick scents such as pumpkin, vanilla or apple to coincide with the season. A relatively inexpensive hack that will ensure your home is left feeling cosy.
Add a Fluffy Throw:
Throw blankets always add a touch of luxury to any home. Whether you choose to drape them over the back of a sofa or chair, layer them on a footstool or have them loosely strewn over furniture, they not only provide warmth aesthetically, but in reality, too. Throws can lift the look of your room and add depth, and if you're looking for something fun, choose a throw that has a pop of colour of a fun pattern.
Add Rugs and Floor Pillows:
Sometimes in our home, wooden and tile floors can stop the house feeling insulated. A great way to avoid this is to add rugs and carpets to the floor. This way you can insulate your home better, while also making the space inviting and warm. If you want extra comfort for seating, in addition to a way to project a laid-back and inviting vibe, then why not invest in some floor pillows? Moroccan floor pillows are a far less inexpensive option than chairs and sofas, and you could also choose to add ottomans or stools.
Dim the Lights:
Harsh lighting never looks good, and if you want your home to look inviting and cosy, then you're going to want to opt for lighting that is soft and warm. A great and effortless way to do this is to install warm-toned LED lights, which mimic a candle-lit glow. Not only will this look inviting, but it will also keep enough light to ensure you stay alert in the colder months.