This article will provide you the best insight to migrate OneDrive data from one tenant to another. If you are also looking for the same operation then you will get the most reliable and error-free solution for this operation.
But, before proceeding further let's go through a real-life scenario.
User Query:-

My company is consolidating with a bigger firm and now we need to move files from one OneDrive to another OneDrive account. We need to perform it for 250 users. Please recommend me a reliable software that can migrate all users sententiously keeping in mind these are the crucial data for us.
Scenario:-
Organizations in the condition of the merger, rebranding, and acquisitions undergo the OneDrive migration process for migrating their enterprise data. In the absence of an inbuilt tool in Office 365, they try to migrate manually, and having tremendous data, it becomes pretty complex and tedious to migrate all OneDrive data using a conventional manual approach.
In this scenario, the user wants to migrate OneDrive data between tenants due to the condition of acquisitions. Hence, we are going to provide a secure and error-free way to perform the same operation without any hassle.
Reliable Solution to Migrate OneDrive Data from One Tenant to Another
OneDrive provides us 1 TB of cloud storage in the business subscriptions. And using a traditional manual method it's quite difficult to transfer all the data manually.
Therefore, we will suggest you use the most powerful OneDrive to OneDrive Migration Tool. That can migrate OneDrive data between tenants seamlessly with complete data protection and integrity in the minimum possible time.
Step by Step Guide to Perform OneDrive migration to a new tenant
Step 1. Download and install the above software on your local computer.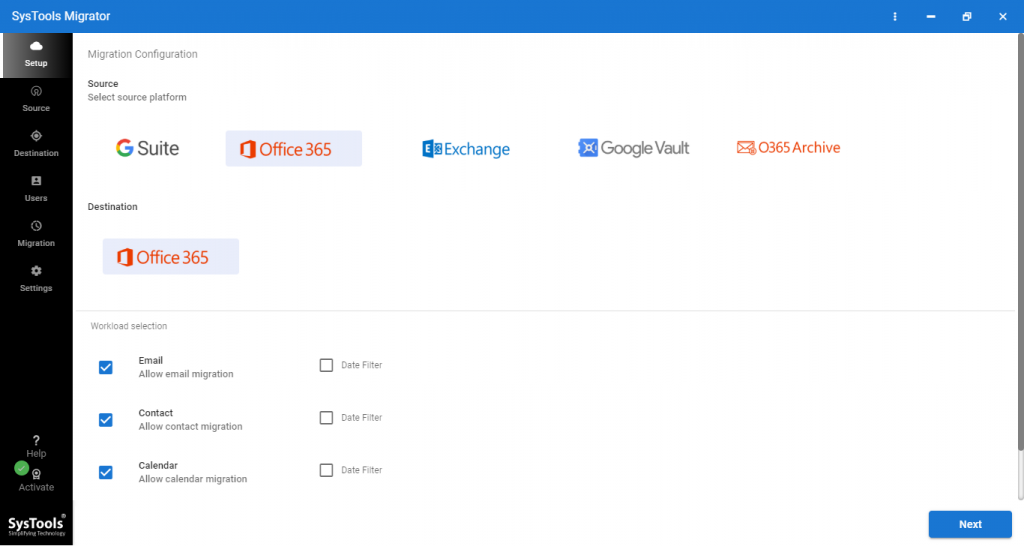 Step 2. Now, run the utility, and from the given options for platform selection, select Office 365 as source and destination for migration platform.
Step 3. To migrate OneDrive data to another tenant you have to check the document option on the screen and also enable Migrate document permissions & use the group Mapping option. You can also migrate data selectively by applying the date-based filter. Now Click on Next in order to migrate OneDrive data from one tenant to another.
Step 4. Log in with Office 365 source Admin ID & Application ID, validate permissions and click Next.
Step 5. Likewise, the last step log in with destination Admin ID & Application ID. Validate it and click Next.
Step 6. Create mapping by choosing any of these three given options; Fetch Users, Import Users, and Download Template in order to migrate OneDrive data from one tenant to another.
Step 7. After user mapping creation, click on the validate buttons for permission validation.
Step 8. Now, Click on the start migration button in order to start the migration.
This utility comes with the demo version. You can download it and can avail the demo version. That can be used for 2 user accounts.
Some of the advanced features give this software an edge over others.
Offers Date filter for selective data transfer in Office 365.
Provides a detailed and summary report for the whole migration process.
100% Data protection and integrity while migration process.
Keeps data intact and maintains hierarchy throughout the whole migration process.
Supports all versions of Windows OS along with 10 and all lower versions.
If you are also looking for the manual approach for this operation then here are the respective steps:
Follow the Guided Steps for Manual Migration to Migrate OneDrive Data to Another Account:
Step: 1 Browse to the OneDrive login portal from your internet browser and log in to your source OneDrive account.
Step: 2 Download all the required files and folders from this account to your local computer.
Step: 3 In this step log in to your destination OneDrive account and upload all the files and folders to this account. In this way, you can perform OneDrive migration from one tenant to another.
This method is quite simple and easy for a single account and accounts that have a small data size to be migrated. But, for multiple OneDrive accounts migration, this method cannot be used, as it has various limitations and drawbacks associated with the manual way.
Let's Sum Up Everything
This article gives you the best insight for a reliable solution for user query i.e. how to migrate OneDrive data from one tenant to another account in Office 365 without any hassle. Moreover, we have also discussed the conventional approach for the same operation. However, the manual approach is not recommended if you are having multiple OneDrive accounts to be migrated.
Migrating OneDrive data from one account to another can be only easy when following the right method. In this blog, we have shown you step by step procedure to perform this type of migration using a powerful tool.