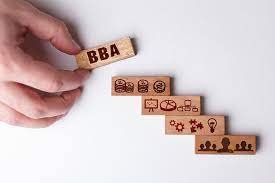 BBA course is India's most prominent business and management field in which important information related to business is provided, There is an industry in which leadership skills are more prominent. It has been seen mostly in India that students prefer to do BBA courses before doing an MBA, so as to maintain their prominence in the business industry and collect all the important information related to it. Which will help in establishing a better business in the future.
What is BBA and why is it necessary?
BBA course can be completed in a minimum of 3 years and a maximum in 5 years.

The

BBA

course provides a unique skill set in the field of business and entrepreneurship development, the impact of which plays a unique role in enhancing the personality and taking the business to new heights.
Full form BBA – "Bachelor of Business Administration"
Eligibility for BBA course:
The qualifications of the course are determined according to the college and institute. There is no predominance of stream i.e. Science, Commerce and Arts in this course. Students who have passed 12th from any discipline are eligible for the course.
10th class pass 55% marks from a recognized institute are mandatory

12th class from a recognized institute

50% marks compulsory in 12th class with English subject

English skills

communication skills
Entrance Exam for Admission:
Indian Institutes, Institutes, and Colleges conduct entrance exams for providing admission in BBA, which is mandatory for the candidates to pass.
According to the result of the entrance exam, the admission process of the candidates is completed, below is the list of some major entrance exams which are organized by the colleges and institutes to complete the admission process.
AIMA UGAT:-

Actually, it is a standardized Under Graduate Aptitude Test exam for various undergraduate programs like MBA, IMBA, BBA, BHM, B.Com, BCA, etc. candidate admission process.
SET:-

Its full name is Symbiosis Entrance Test. This exam is conducted for taking admission in various courses like BBA, BA, etc.
IPU CET:-

Its full name is Indraprastha University Common Entrance Test. It is conducted for a university-level entrance exam.
There are many colleges and institutes in India that provide the facility of taking admission in BBA on the basis of higher secondary marks.
Benefits of doing BBA:
Opportunities to become an Entrepreneur in future

Improving communication skills and making business decisions

Opportunity to make a career in Accounting, Marketing, Organization, Management, Finance, International, Business

Job Opportunity in Government Sector and IT Industry

Opportunity to work at the International level
Fee Structure:
The fee for this course is determined according to the educational facility of the institute and the college, the type of facilities the college provides. 
The course fee of BBA is mainly measured in two stages first government and second private. The BBA course fee in private colleges and institutes is around two lakh to four lakh and in government colleges and institutes one lakh to two lakh.
In government institution = 1 lakh to 2 lakh
In private institution = two lakh to four lakh
Subject:
It plays a vital role in providing a better framework and understanding of management studies along with communication skills and leadership skills.
Syllabus:
Finance

Principles of management

Accounting

Risk Management

Hospitality and Tourism

Marketing

Statistics

E-Banking and Finance

Operational Research

Business Mathematics

Logistics & Supply Chain

Management and Insurance

The syllabus may vary according to the institute and college. For complete information about the BBA course syllabus, must visit the official web.
Course Conclusion:
All important information has been provided here through BBA Course, understanding which candidates can prepare for the BBA course. For more information, please clarify your curiosity by visiting the official website. thank you