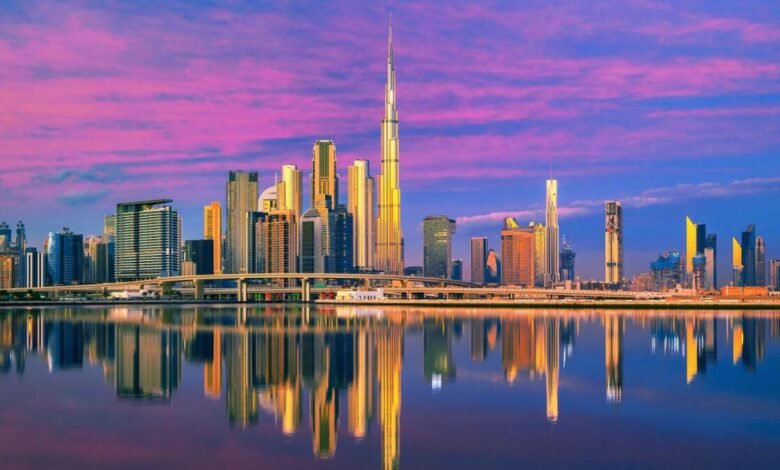 The Dubai real estate market has experienced a significant upswing in recent years, with property prices surging by more than 30% from 2021 to 2022. The strong demand for local houses and apartments has driven this trend, and it is expected to continue in 2023, with over 30,000 real estate transactions recorded in the first quarter of the year. This surge in activity is setting the stage for further growth and potential record-breaking performance in the Dubai real estate market.
Sustainability Takes Center Stage
The United Arab Emirates, under the leadership of Prime Minister Mohammed bin Rashid Al Maktoum, has set forth its priorities for the year, emphasizing environmental protection and sustainable development. These priorities are having a significant impact on the Dubai Real Estate Market. The authorities are working to create a more environmentally friendly environment, which is influencing various real estate developments.
Dubai Creek Harbour: A Green Oasis
Dubai Creek Harbour stands out as one of the greenest and most sustainable areas in Dubai. Originally designed to cater to modern living, this coastal project offers a unique blend of residential buildings, entertainment, and shopping areas. Developers have ambitious plans to construct the city's largest shopping center within this area. Moreover, Dubai Creek Harbour is set to benefit from the addition of four metro stations, enhancing its accessibility and reducing reliance on petrol cars.
Despite its vast size, being 2.5 times that of Downtown Dubai, Dubai Creek Harbour is a pedestrian-only area. It boasts parks, recreation spaces, bike paths, a nearby beach, and a picturesque promenade adorned with cozy restaurants. Thanks to extensive landscaping and its proximity to water, residents of Dubai Creek Harbour enjoy a strong connection with nature, including opportunities to visit the Wildlife Sanctuary and admire pink flamingos. These unique qualities have made real estate in Dubai Creek Harbour an attractive asset for investors looking for eco-friendly living in a bustling urban setting.
Meeting the Demand for Affordable Housing
Dubai's natural surroundings, a strong and sustainable economy, and high safety standards make it a desirable location for individuals from around the world looking to relocate. However, not everyone can afford premium housing. As a result, there is a growing demand for more affordable housing options. While areas like International City, Dubai Production City, Liwan, and Dubai Sports City have traditionally been considered the most cost-effective for renting housing, Jumeirah Village Circle is emerging as a compromise option, offering affordability without compromising on quality.
Rising Prices in the Luxury Segment
The surge in real estate prices in Dubai is expected to continue until the end of 2023, with analysts predicting growth ranging from 5% to 20%, depending on the specific property. The Peninsula Four at The Plaza complex, the final phase of the large-scale Peninsula project, is expected to see substantial price increases. Dubai is increasingly attractive to large entrepreneurs, which is contributing to the rising prices in the luxury housing segment.
Peninsula Four at The Plaza: A Luxury Living Experience
Investing in real estate in Peninsula Four, The Plaza, offers a unique opportunity for luxury housing enthusiasts to acquire assets in an ideal location. This development combines a prime location with elegant design and comprehensive infrastructure. It will feature a range of options, from studios to one- to four-bedroom apartments and penthouses, all offering breathtaking city views. Situated on the canal embankment in close proximity to the water, this complex will consist of two 52-story skyscrapers and two smaller buildings with premium apartments, providing a luxurious living experience.
Moreover we are going to look at some expensive villas in Dubai.
The Pinnacle of Luxury: Dubai's Most Expensive Villa
Now, let's turn our attention to the Most Expensive Villa in Dubai, crafted by Ellington Properties. This modern beachfront masterpiece draws inspiration from seashell colors and soft, elegant shapes that seamlessly blend with pristine white spaces and palm trees. The interior exudes sophistication and warmth, with each space meticulously designed to the finest detail. It embodies a unique and refined luxury property, showcasing art, fashion, and trends through its elegant, minimalist design.
Investment Strategy: A Unique Approach
Investors and developers in Dubai are adopting an intriguing strategy: the renovation or reconstruction of outdated villas using cutting-edge technologies. Two key scenarios illustrate the potential returns:
Rental Case: Villas in certain areas fetch around 300,000 dirhams annually. However, a developer's revamped villa, boasting uniqueness, can command a staggering 1.5 million dirhams—five times the standard rent.
Recent Resale Case: A developer purchased an old villa with land for 3 million dirhams, invested 1.2 million dirhams in reconstruction, and swiftly sold the villa for 10 million dirhams in less than a year. This investment opportunity in the UAE is unparalleled. While apartments offer a 7-8% annual return with increasing service fees, villa reconstruction promises even greater potential returns, with profits ranging from 40-100%. Of course, the key lies in the architect's ability to create something truly unique that captivates buyers.
Why are Dubai Villas Popular?
Dubai's appeal for villa investments is multi-faceted:
Dynamic City: Dubai stands as one of the world's most dynamic cities, steeped in history and culture. It draws in tourists and business professionals, making it an attractive property investment hub.
Profit Potential: The growing demand for luxury real estate in Dubai makes villa construction a profitable investment project. Villas represent prestigious housing that entices buyers globally.
Tax Incentives: Dubai offers investors numerous tax benefits and financial advantages that boost investment returns.
High Prices: Luxury real estate in Dubai commands high prices, often significantly more than in other cities, making it an enticing market for investors.
Location Matters: La Mer, a Scenic Destination
Situated in the picturesque La Mer, this villa enjoys a prime beachfront location. La Mer, perched along the Persian Sea, is a fusion of traditional Arabic architecture and contemporary design, epitomizing the modern face of Dubai. The area offers a plethora of entertainment and services, including restaurants, cafes, shops, parks, and beaches.
Visitors can indulge in sun-soaked beach days, sea swimming, and exhilarating water park adventures, or simply relish a picnic and open-air cinema. La Mer caters to those seeking a comfortable and modern environment for leisure and life in Dubai.
Conclusion:
In summary, the Dubai real estate market is thriving, with a surge in property prices, a growing emphasis on sustainability, and diverse housing options to meet varying demands. From eco-friendly living in Dubai Creek Harbour to affordable housing in areas like Jumeirah Village Circle and high-end luxury at Peninsula Four at The Plaza, the market offers something for everyone. Dubai's appeal as a dynamic, profitable investment hub with tax incentives makes it a sought-after destination for investors. Additionally, the most expensive villa in Dubai, a masterpiece by Ellington Properties, exemplifies the city's commitment to luxury and modern living in locations like La Mer, where a wealth of entertainment and services await.