When you are too passionate about something, you turn those simple things into wonderful ones. That is how the beauty world works. The beauty world makes a lot of creative discoveries regarding hair, skin, and outfit. When it comes to hair, women are super-sensitive and creative. The moment they find something fascinating about hair, they try it to level up their beauty game. Nowadays, women are up to Barbie-inspired hairstyles, and it is flooding social media. 
Every young girl would have spent their childhood cuddling Barbie, stroking their hair, and now they are back to Barbie once more. No more cuddling but recreating those flashy Barbie hairstyles. Lots of Barbie comes in unique ponytail hairstyles. However, women have succeeded in perfecting off Barbie ponytails. Here are 10 Barbie-inspired ponytails that are also easy protective styles.
The Sky High Barbie Pony
Barbie-inspired high ponytails are one of the most versatile styles for long hair and women wearing ponytail extensions. You can do a basic ponytail with plenty of lengths to recreate this style. This simple ponytail will come in useful on those lazy days. It is a very easy hairstyle, but the only thing you may find difficult is lifting your pony at the base. Once you get the hang of it, you will need to touch for hold, gloss, or volume; then, you will be ready to go in minutes.
Wavy Ponytail with Hair Bangs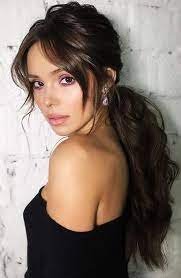 Barbie doesn't come much with ponytails and hair bangs, but it is super cool when they do. And the style is breathtaking when you try it on your natural hair. Maybe they are the ultimate combination – the wavy pony oozes a lot of character, and the bangs do a great job of framing your face and accentuating your beautiful facial features. You'll make a very casual look capture everyone's attention with this extremely edgy hairstyle! Don't limit yourself! Play with your hair bangs and try different bangs hairstyles. Don't have any bangs? Not a problem, visit the nearest hair store and grab a nice piece of bangs hair extension. Then don't hesitate to add enough volume to your wavy pony.
The Barbie Twist
When we think of a simple ponytail, we usually contemplate something plain and dull or exquisite and precise. On the other hand, a twisted ponytail touches both; effortless yet fabulous. The hairstyle is timeless, beautiful, and appropriate for any woman. Pin your mane into a beautiful ponytail and twist it with two thick strands. If you want your braids to endure all day, secure the twist with a small elastic tie at the end.
A Long and Sleek Pony
Although this ponytail might appear simple, it isn't your average pony. Achieving that perfect sleek look takes some effort. So how do you avoid looking like Nora Fatehi in this picture? First, you need long hair; if you don't have long hair, invest in a high-quality piece of easy ponytail extension. Brush your hair and secure your natural locks into a high ponytail. Then wrap the ponytail extension around the natural pony. Finally, apply a smoothing serum to keep your pony sleek and neat.
The Classic Braided Ponytail
This classic braid is a protective-style ponytail that can last you up to two weeks and is great if you don't want to commit to braids. Just make sure the ponytail isn't pulled too tight, as this can cause tension on your scalp and hair follicles. You can wear braided ponytails with any outfit and to any occasion. It is ideal for formal events, such as weddings, or casual events like Sunday shopping.
High Volume Loose Pony
Do you feel like your hair is limp, droopy, and lacking oomph? If your hair is lifeless when down, it would probably be the same when you tie them into a ponytail. You need to add something special like waves, curls, or a ponytail extension. Curls and waves are the best buddies of Barbie-style ponytails. So use a curling iron to add the luxury of bountiful volume and extra-oomph.
Blonde Barbie Hair
These days artist never fails to make their fans go crazy! Partially nude outfits, catchy lyrics, and a jaw-dropping hairstyle are enough to make their fans fall head over heels. Look at this beautiful blonde pony Katy Perry! It is just a Barbie hairstyle, but Katy rocks the look flawlessly. How do you style it, though? Well, make sure the hair surrounding your scalp is snatched, the elastic is disguised with a chunk of hair, and the ponytail's ends are softly curled and volumized.
Low Pony with Side Swept Bangs
Taylor Swift pulled her soft tresses back into a low ponytail with neat side-swept hair bangs to make the whole style super romantic. The combination of her long side-swept bangs and her low, smooth ponytail is incredibly appealing. It's not a new style; many women have sported it, but it has a sweet and flirty character that makes it irresistible.
The Double Braid Pony
Simple ponytails, whether high or low, have been a good friend to women. But, sometimes it may become monotonous and boring. So you got to elevate and improvise it with braids, not one, but two braids. And you have the liberty to choose any braided style; French, Dutch, or a classic three-strand braid. It is easy to achieve yet appears incredibly gorgeous and professional.
The Segmented Bubble Ponytail
The easiest and coolest method to add a sassy vibe to an otherwise simple and clean pony is with a segmented bubble ponytail. It works on a wide range of hair textures. It seems a little bit complicated, but it is not that difficult to flaunt your natural hair into a flowing bubble ponytail. If you have fine, straight hair, gather products that give your strands a little more grit. Texturizing or volumizing sprays are the recommended products to getting the perfect bubble without it seeming flat.
Conclusion
These ten Barbie ponytails have a little more oomph than your usual ponytail hairstyles. Barbie-inspired ponytails are appealing and appropriate for everyday wear, whether you have long-short or medium hair. Don't hesitate to go back to your childhood toys hairstyle – it's trending right now!