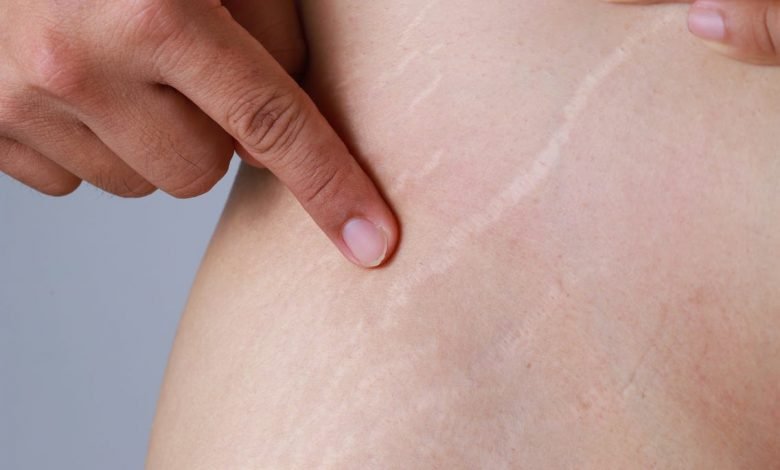 Skin is really important, it protects our internal organs from damage as well as enhances our appearance. So, we need to take good care of it. But because of natural aging, it starts losing its firmness, elasticity, and glow that eventually looks dull, tired, and pale. While it is not possible to stop aging but yes, we can slow it down. With a wide range of skin treatments offered at reputed cosmetic surgery clinics and even street salons, skin rejuvenation has become a lot easier.
Elastin plays an important role in skin stretching. It allows it to stretch and return to its normal state with any damage. Anyway, when the skin is stretched beyond its limits, we see stretch marks on its surface. This occurs when the middle layers in the skin breaks in places, making the inner layers more visible. They can be purple, white, grey, or silver. The color varies based on the skin tone and type of skin. Another major cause of stretch marks is excessive weight loss. When we lose a lot of weight at once, there is a significant decrease in the skin elasticity which in turn makes the skin thin. However, it's best to have the treatment when you see stretch marks for the first time as most dermatologists say "treatment of any disease at its initial stage is always best".
When it comes to its removal, there are uncountable methods to choose from. Some are quick, expensive, and painful, and some are time-taking but permanent. Anyway, in this guide to Stretch mark removal in Dubai, I'll comment on the fastest way to get rid of stretch marks.
Who is the candidate?
About 60% of treatment candidates are women who recently have had the delivery. Due to extreme skin stretching, they get stretch marks on their thighs, abdomen, back, and hip. While pregnancy is the major reason but it is not the only one. Some stretch marks seem to be genetic. This indicates that if anyone in your family has this problem, there are great chances that you will have them too, at least once in your life. Anyway, no matter, why stretch marks have developed on the skin, you can treat them.
Treatments
Laser Therapy
It is one of the fastest way to get rid of stretch marks because you can have it from any skincare clinic. Moreover, the treatment takes just ten to fifteen minutes to cover even large areas of the body like the abdomen, thighs, etc. While bruising or swelling is always a possibility but thankfully, you can minimize this potential side-effect. Using a local anesthetic during the procedure, and ice bags after it surely can help.
With the right doctor, safe laser device, and local anesthetic, you can achieve youthful, and beautiful skin without pain. Nevertheless, because most laser treatments present temporary results, so chances are you will need to have this treatment again and again to preserve the effects for longer.
Generally, dermatologists use EKA Smartxide Fractional CO2 Laser for this purpose. It is a reliable, effective, and safe technology. In the therapy, the doctor moves this device over the problematic region to eradicate stretch marks, make you beautiful, and improve your confidence. Anyhow, you should be in a good health to have this type of treatment otherwise, you may suffer problems.
Microdermabrasion
The colored streaks developed on your skin can be removed with Microdermabrasion. This ancient technique has gained a lot of popularity in the UAE. It uses a tiny tipped band to resurface the upper damaged skin layers. The device is brought near the skin and then turned on to spray tiny, exfoliating crystals where you want treatment. The good thing is that it can be done anywhere you would laser e.g. thighs, hips, abdomen, neck, etc. Anyhow, after the treatment, you may feel tightness in the treatment site. Also, there may be some swelling from skin scraping.
Chemical Peels
This stretch mark removal involves using chemical-based topical medication to penetrate the dermis. It also triggers elastin production within the skin. The increased elastin stimulates cell regeneration that in turn fills the stretch marks.
Microneedling
It involves an elaborate technique of using a special device to create punctures and target the dermis. This option is good for "stretch mark sufferers with dark skin tones". It should be pointed out that as with other non-invasive treatments, it has to be done multiple times too. Probably, you will need six sessions to achieve great results.
Surgery
If you tried non-invasive treatments but couldn't receive the desired results, then choosing surgical treatment for stretch marks is completely alright. It can permanently eradicate silver, prominent lines from the body. While it delivers incredible upshots but at the same time, it is very expensive. Also, it can leave scars on the treatment site. The best surgical treatment for this skin concern is a tummy tuck. In general, it is used for removing excess fat and skin but occasionally, it is used to remove stretch marks from the abdomen.
Conclusion
Laser treatment is the fastest way to get rid of the stretch marks. Within three to four months of laser therapy, you'll see your skin have greatly improved. But you have to be gentle towards the skin for some time in order to prevent side-effects and keep results for a number of years.