Tech
Features Of A Smart Office That You Can't Overlook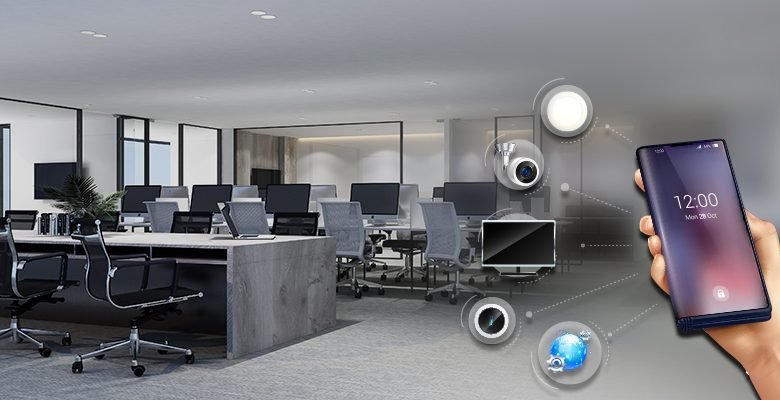 In this contemporary time, new technologies assist users in completing work in an absolute manner with minimum consumption of time. And the Internet of Things is currently one of the most advanced technologies whose fundamental goal is to flatten the workflow in offices. 
While most people spend roughly 8-10 hours per day at work, it is only natural that smart offices with IoT-based automation will become more prevalent. According to the most recent data, the smart office market is steadily expanding, with $22.21 billion in 2017 is expected to quadruple to $46.11 billion by 2023.
Smart office technologies can help businesses increase workplace productivity, expedite mundane tasks, and provide more reliable and convenient working environments. Therefore, by implementing the Internet of Things in-office employees enjoy working. 
Let's roll down the features and benefits of using IoT for smart office automation. 
What is a Smart Office?
A "Smart office" is a workplace outfitted with IoT devices and, therefore, connected to the internet. Regardless of whether employees are sitting in the office or working remotely and communicating with their in-office team, smart technology helps them work more fruitfully and efficiently.
Integrated technologies and analytics are used in smart offices to better serve employees to work successfully. 
Is it a Luxury or a Necessity?
Smart office technology has sparked significant skepticism among potential users. However, many business owners are still hesitant to invest in IoT in the workplace, and those who have tested different technologies have mixed emotions.
Developing an IoT-enabled smart office, however, entails much more than being able to control the temperature or lights from a smartphone. 
It translates to safer, more efficient operations and, as a result, a higher return on investment.
It is entirely up to you whether or not to implement these solutions in your office. However, keep in mind that even a small increase in your company's productivity can become a significant competitive advantage. A pleasant work atmosphere can help you attract and retain fruitful top employees. 
Features Of A Smart Office
A smart office has the potential to transform an office into a magical world where various items interact with one another and make everyone's job simpler. Some smart IoT features are listed below to demonstrate how this technology may transform offices into smart offices.
1. Introduction to self-track maintenance
Various devices in the office can be empowered to self-track the need for maintenance, thanks to smart IoT sensors and software. This means that gadgets can no longer rely on human maintenance and inspections that come with more possibilities for errors.
Smart sensors have now replaced human maintenance inspections to a great extent. However, they would still require certain professionals to watch all the processes and rectify the issues. 
2. Ease in tracking with IoT tagging 
IoT tagging can assist management in keeping track of the many tools, gadgets, and other devices that get distributed to the employees. This technology can assist them in obtaining complete information on the whereabouts of the assets. These turn over and alert them when employees check their devices in or out of the workplace.
3. Smart lighting for more efficiency 
Smart lights with IoT capabilities automatically modify their intensity and colors in response to external conditions. This way, they ensure that everyone in the office has the least amount of eye strain possible during the day. Work productivity increases dramatically as eye strain reduces and the eyes relax.
As a result, smart lighting can help office workers be more productive and are programmed to turn off when the area is empty. Therefore, they help in energy conservation and help save the environment. 
4. Close monitoring of the employees
Smart offices powered by IoT-enabled devices can keep track of staff behavior in the office. These sensors determine whether or not employees are sitting at their desks, and they can find out where they are. 
Furthermore, these aid management in identifying employee activity in the canteen or meeting rooms. As a result, management may keep a close eye on the activities of the workers to make better actions. 
5. Smart security and safety systems
Internet of Things can improve an office's security system by enabling smart security systems. Smart devices integrate cameras and sensors that quickly identify intruders and security risks. 
Additionally, IoT-enabled smart safety systems assist businesses in tracking equipment maintenance and detecting safety concerns, to protect the company.
Smart Office Checklist 
It's critical to make informed decisions about what your team requires before you begin upgrading every piece of technology in your company. Use the below-mentioned checklist to help you plan your smart workplace improvements.
Start by examining your current requirements. Determine the source of your existing technology's major pain point. If you're not sure, enlisting the help of your staff is a good place to start.

Make a budget for everything you're planning and prioritize the modifications accordingly. However, if you have the money to make one investment right now, opt for one that impacts both the work environment and long-term cost savings.

Make predicted changes considering the number of employees. If you anticipate expansion, relocation, new offices, or even a reduction in staffing, choose technology that can adapt to these changes.

Make sure the security in your office is up to the mark. The legal capabilities make your workers feel safer at work and relieve administrative stress.

Rearrange the office to accommodate the new areas you've decided to add. If you go with floating desks, add extra collaboration areas, or rearrange your workstations, the space flows well and complies with current codes.
Brew Of The Blog 
Despite the fact, the Internet of Things (IoT) is still relatively new (after all, this technology is rather expensive and sophisticated), they're taking the market by storm. IoT increases the effectiveness of your employees' jobs and helps avoid numerous potential problems. 
This smart technology can provide you with more security, advanced diagnosis of your workplace equipment, and a more organized work environment.
You can tackle common productivity issues more effectively and create a more comfortable working environment with the help of smart offices and IoT devices.