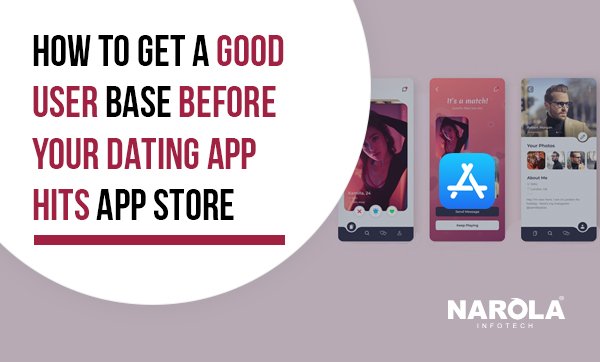 Are you looking to make a dating app that gets plenty of users? In the pool of apps like OkCupid, Hinge, Tinder, and more, people usually are put in a state of confusion when they decide to work on dating app development.
To successfully create a dating app having ample users is a challenging task. Receiving users to your site or app is the uppermost challenge for startups. 
It's troublesome to have users when you launch a platform that completely counts on user-generated content. As apps like Tinder are already having firm roots in the dating world, it becomes important to ensure that you attract users. For this, your dating app must have enough users already on board right from the Go!
This section will peek into some crucial tips for overcoming your problem of having abundant users on your dating app, specifically for the new mobile dating startups.
Also, we will highlight the technique of how to have a constant flow of users to your app and the method of acquiring an initial user base. 
Before creating a dating app, decide the following things first.
A. Who is your audience?
B.How your users must see your app?
C. Why must users choose your app over many others in the market.?
1. Target Audience
The value of dating apps is in their users. However, one should always remember the audience your app will target. While Tinder has preoccupied the mass market, several dating apps are still managing to shine by targeting particular audiences.
For example, there are interesting dating apps for pet owners (Twindog), for farmers (Farmers Only), for national minorities (JSwipe), for same-sex friendships (Hey! Vina, Bro), for the LGBT community (Grindr, Her), and a lot more for different demographics.
2. Positioning
After deciding your target audience, one must know the best way to interact with the users. Also, understand how you want them to think about your app. For this, you must position your dating software with a crystal clear message that resonates the whole time through all your promotional stuff. 
For instance, the Hinge app ranks itself as the anti-Tinder app for users seeking meaningful relationships, not just casual dating. Also, Hinge makes efforts to minimize the number of fake accounts, and spammers.
In order to keep accounts legit, Hinge even offers information from the Facebook page of users like their photos, friend list, place of studying, living location, marital status, and friend list and then arrange perfect matches between friends of friends.
3. Competitive Advantage
The idea of positioning signifies the philosophy behind your dating app. However, first, one must clearly articulate that positioning – first, for yourself and then for your target audience. Alternatively, one should articulate how your app is different from others. What extraordinary features does it have? Does it eliminate spammers and bots?  Answering such questions helps you in keeping your concepts clear.
Focus on just one feature that marks off your app from the crowd. However, you have to remember that the dating app market is cramped today. So, the more unique features your dating app offers, the higher are the chances that it won't get drowned out by others.
Start Engaging In Social Media And Marketing Campaigns
Once you understand your target audience and what type of app you have developed for them, you can begin with engaging users through social media campaigns and marketing.
Social networks are extremely popular amongst your target audience. So,  use social media platforms to figure out your app potential users and establish a strong connection with them. 
Start with creating a social network page of your app prior to launch. It will help you in getting users ready to try your dating app on launch day! Also, post content on your app's social network that's relevant and valuable for your target audience to get extra visibility. 
Your content shouldn't just include news regarding your app but must also contain unique, entertaining information that offers practical value for users looking for an excellent dating solution.
Bro is one of the best dating apps for men only, which launched its Facebook page in January 2015. Though the app was released in November 2015. During six months of sharing activity on their Facebook page,  the app gained thousands of users' attention who crowded the app's initial user base.
Getting viral on social media is a blessing. Focus on developing sensational promo materials and unique content that are appealing enough to get viral across social networks.
Launch A Website
For getting organic users, launching a website is the main source. To get traffic with organic users to your app, you have to focus on two major elements of the website: first, the landing page, then the blog.
Landing Page
Before launching your app, you need an appealing landing page with a registration form for collecting emails and for keeping your people informed regarding the launch and development of your app. You can use your landing page to explain the concept of your app.
Blog
The next most important step, a  blog is a place where you narrate a story and build a strong connection between your product and potential users. Ensure your blog highlights the answers and needs of your target audience. 
Both your landing page and blog will do wonders only if you keep in mind a third major element: SEO.
Search Engine Optimization
SEO plays a vital role in making a website visible on the internet. Start with the basics, then move forward as your traffic seems to grow.
Work on choosing the right keywords that your users might browse for, and insert them into your title, tags, URLs, images' name, Alt text, meta descriptions, and the main text of blog posts.
Also, increase your website's visibility by using proper header tags (<H1>, <H2>, <H3>), and make correct use of bold text for highlighting essential information. Also, keep your content text human-friendly. 
Above all, watch how SEO activities affect the metrics of your website. Thus, try different keywords, different content types, and different approaches.
Find a Community For A Kickstart!
Usually, people love to date within proximity of where they live. And this is the reason why generally, dating apps are location-based and launched to have a specific geographical area.
So, it's important to sign up enough users within a specific area for your app to have good value. Thus, your first job should be finding a valuable area for launching your app. Select an area where your target audience lives and loves to socialize. After this, find different local communities within that area and try to target them.
Apps like Tinder generally aim at local campuses since they target social communities that can spread an idea by word of mouth. Thus, a specific community you target during the launch time depends upon the positioning and niche of your app.
Using Fake Accounts Is Not A Good Strategy
Many dating startups overcome the situation of chicken and egg by making fake accounts. So the conclusion here is to have a specific number of fake accounts during the launch time, and the next is to remove those fake ones as soon as genuine users join your app.
It's one of the convenient ways to populate a dating app user base. However, we will not suggest this strategy as it risks your company's credibility. Also, users will not be happy using a dating app used by dummy accounts and bots.
Conclusion
Finally, by implementing all the tips that we have mentioned above, you will surely be able to get the first five thousand users for your app. Also, as a dating app owner, you need to be active in your industry and keep an eye for the latest features, which makes the journey of your users fun and easy.
To achieve all these things, contact our dating app development company, Narola Infotech. We are a professional dating app development company whose prime goal is to develop an app that satisfies its clients. So, without any second thought, call us today and say goodbye to your problems!