Fashion
How to Order Handmade Corset Online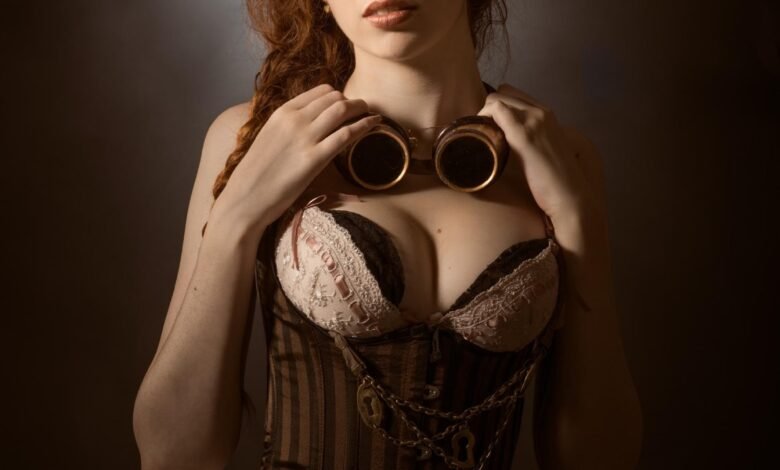 Corsets – a piece of clothing as important and crucial as a bra. Handmade corsets are custom corsets made to tailor the size and structure of a person. In comparison to the mass-produced corsets, handmade corsets are sewn by only one individual from the start till the very end. Mass-produced corsets are prepared in bulk where each part of the corsets is cut one after the other and the parts are sewn together later to form a gorgeous corset.
While talking about handmade corsets, one must think about the material of the corset, lacing, boning, and most importantly the fitting of the corset. Like a good bra, a corset must be chosen carefully and after meticulous observation, even more so when trying to shop for a handmade corset online.
In the olden days, the boning was primarily made out of whalebone or wood. Now boning of corsets is made up of plastic stays or steel ones. Even though plastic boning is lightweight, it is majorly used in poorly made corsets and must be avoided. Steel boning on the other hand is durable as well as an excellent choice while opting to buy a handmade corset online.
In the midst of a pandemic, shopping online is a tedious task. It becomes 10 times harder when you are shopping for something like a corset which requires attention to detail. In times like these, we can't go to the store, try on a zillion different clothing items before choosing a perfect fit and settling on it. We will have to make do with online resources and here are a few tips to help you shop for a handmade corset online.
When should you order a Handmade Corset?
Most corsetry websites already offer a wide range of options from fabrics, aesthetics, design, and a lot more! They also try to cover all the size ranges. Most sites even have a section for Plus size CORSETS. Handmade corsets are much more expensive when compared to ready-made ones. Also, these handmade corsets take more time. The reason being the cost and effort of the labor involved in it. So, why would you want to order a handmade corset?
Handmade corsets are only recommended when you cannot find your size of corset easily. If you are planning to design it yourselves, then handmade corsets are a good option. But it comes at a cost of your patience and money.
Step 1: Where?
The journey of 'How to order handmade corset online' starts from the question where? Where exactly do you look for the best handmade corsets? And not just the best but also at affordable and reasonable prices? While a google search may give you a variety of options, you may not have the time to sift through them all and find a shopping site that suits your taste.
The best sites to conduct your handmade corset loot are Etsy, truecorset.com, corsetmaker.com, Livemaster, vollers-corsets.com, and angelafriedman.com. These are a few notable sites that have a wide range of handmade corsets which will help you choose a perfect fit. If you don't mind spending a few more bucks on these luxury corsets, corset deals bespoke corsets are the deal for you. All these sites make custom corsets for their customers as well as offer ready-made ones.
Step 2: Fitting
In the times when vanity sizing has made online shopping a pain for fashion enthusiasts, it becomes extremely important to check the fitting of any item of clothing before buying it. Almost all the shopping sites nowadays offer a size chart to help their customers pick out a perfect fit. If you go ahead and opt for a custom handmade closet, make sure you have another person take your measurements and order accordingly.
Even though size charts may not be very reliable, they offer an approximate. It is better than not being able to shop at all. Most size charts give a pretty clear idea of how the corset will fit you. You may also try and compare the size to another corset from the same brand you may have purchased earlier.
Fitting and size matter a lot while buying a handmade corset, an ill-fitting corset may ruin the look of the entire outfit and may even lead to uncomfortable feelings while wearing the garment. The last thing you want while trying to look like a brazen beauty is to end up looking like an awkward, restricted puppet with frustration clearly written on your face.
Step 3: What next?
Ordering a handmade corset online is a circus and you don't want to add more complications to this complex process. You have chosen your perfect fit from a perfect site, but what next? What if the ordered corset does not meet your expectations? Hence while ordering a handmade corset, take a look at the return or exchange policy of the corset shopping site.
If possible, take a look at the refund policy as well. No one wants to buy an ill-fitting corset and then be stuck with it. The worst possible nightmare of every shopper is being forced to keep around an item they would like to return or exchange.
Conclusion
That's all about ordering a handmade corset online. We hope you have everything you need to start your hunt for a flawless corset. Stay Calm and Keep Corseting!