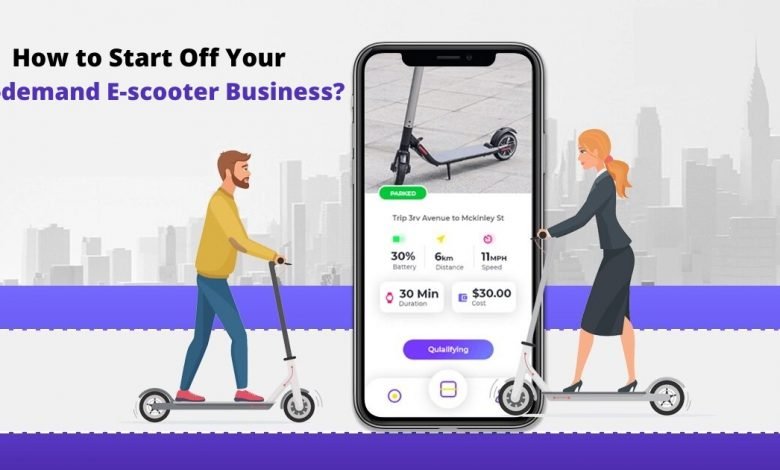 Business
How to Start Off our On-demand E-scooter Services Business?
The on-demand economy keeps moving up in ranks over the years. The spike in on-demand services has galvanized business entrepreneurs to try out their luck. If you unearth each on-demand service, then you will witness the colossal level of competition prevailing. Coming up with compelling business ideas and a robust booking app like e-scooter will aid you in establishing your business.
In this line of competitive on-demand services, you can launch an e-scooter app like Bird. The moment you hear the word e-scooter, you would have been excited, right? Not just you, but there are millions of people out there who love e-scooters. Reasons? E-scooters are chic, environment-friendly, cheap, and of course, durable.
How do e-scooters operate?
Basically, we know that e-scooters require electricity for their functioning. The battery embedded in the e-scooter will contain a board that will absorb the electricity and help the e-scooter in charging. 
Booking and accessing these e-scooters is much more interesting, which we will see in detail shortly. 
What do stats have to say about e-scooters?
Here, Statista predicts the number of e-scooters that will sell in the upcoming years. According to the reports of Statista, globally, 55 million e-scooters and cycles will be sold. From these stats, you can infer that investing in the e-scooter business will be profitable.
Benefits of relying on on-demand e-scooter business
Before you delve into the idea of launching an on-demand e-scooter app, think of its benefits. Investing in the e-scooter services business is definitely a beneficial one for so many reasons. Let us see each of the benefits vested in the e-scooter services business.
Unlike taxis, trucks, and other vehicles, e-scooters require less maintenance. You need to replace the batteries if any of your e-scooters demand. Other than that, you need to charge them whenever they run out of charge. So, maintenance wise, e-scooters are advantageous. 
The main cost-consuming factors of vehicles are maintenance and fuel. Just now, we saw that e-scooters are maintenance-free. Also, e-scooters need electricity for charging, which is cheap when compared to petrol and diesel.
Durability is also an important factor to note down before investing in vehicles. From the perspective of durability, e-scooters are the top ones. 
The compact model of e-scooters lets people pass through the traffic with much ease. Ultimately, they can save time. So, in comparison to other vehicles, the preference for e-scooters will be intense among people.
Unlike taxis and other vehicles, e-scooters don't require any license to operate. Also, they are easy to park.
The functioning of an on-demand e-scooter app
Users who want to use e-scooter services provided on your platform will book their slot. Once they get confirmation from your platform, they can go to the parking area and take the ride.
Step 1: Registration
Installing the e-scooter app and registering on the app will be the first step before hiring the e-scooter. Nowadays, on-demand apps include both social media registration as well as traditional registration methods. 
Step 2: Search nearby e-scooters
Now, it's time for users to spot an e-scooter that is nearby. For the purpose of spotting the nearest e-scooters, users will enter their current address and start searching. Once entered, the app will show the nearby e-scooters if any.
Step 3: Book & unlock
Suppose the users find any nearest e-scooters, then they will quickly go to the parking area. Once they reach the area where the e-scooter is parked, they will have to unlock it using the QR code. The e-scooter will be embedded with the QR code, and it is scannable through the app. Once the users scan the QR code on the e-scooter, it will get unlocked. 
Step 4: Real-time tracking
So, what's up with this feature? As soon as the users commence their rides, they can utilize the real-time tracking option. Users can check whether they are moving in the right direction with the real-time tracker. 
Step 5: Pause/End ride
We know that e-scooters are self-driven. So, unlike taxis, users cannot stop them in between the rides. However, it would be a great idea to add a feature to pause the ride. So, users can opt for the pausing feature at their convenience. 
The app will keep track of the route and automatically end the ride when the destination is reached. Now, users must lock the e-scooter by following the same procedure of scanning the QR code.
Step 6: Payment
Smooth online payment will grab the attention of your e-scooter users. Since there will be no COD option for e-scooters, users have to completely rely on online payment modes. Bird, a famous on-demand e-scooter services company has included the Apple Pay option in the app. So, the wise idea is to collaborate with popular payment gateways. 
Develop your on-demand electric scooter app 
From this board explanation of the on-demand e-scooter services, you will be agog to develop an e-scooter app like Bird. So, here are the steps to follow for commencing an on-demand e-scooter services business.

Analyze your target customers
Unlike on-demand taxis, e-scooters haven't yet become prevalent. In the majority of countries, e-scooter services are not available. First, analyze the countries that lack e-scooter services. Next, check whether launching your business in such countries will be feasible for you. Chiefly, find out people of the selected countries will opt for e-scooters in comparison to other transportation services. 
Suppose the data from the customer analysis is in favor, move on to the next step. Choose a model for your e-scooter business. You can directly purchase e-scooters and provide services. Otherwise, ally with service providers who are already in this field of providing e-scooter services.
Develop and launch your e-scooter app
You are one step away from deploying your on-demand e-scooter business. Ally with a reputed e-scooter app development company, discuss your needs and get your app developed. Simply choose an app development company that provides a ready-made Uber clone app. This app has a stunning stack of benefits like customizability, white-labeling, and hassle-free integration. 
Wrapping up, kick off your on-demand e-scooter business and turn the table to your side.