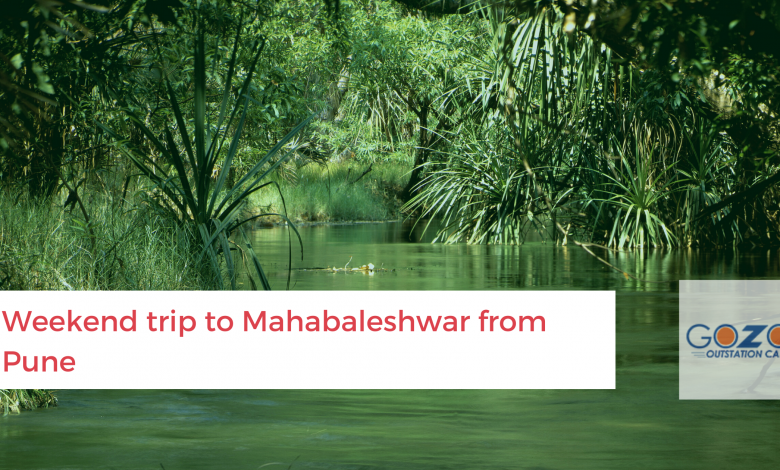 Mahabaleshwar "The land of strawberries", "The Hindu pilgrimage place", "The land of rivers", etc many more names has this place. Well, if you are looking for a great place for your family to visit on a weekend then Mahabaleswar is surely gonna surprise you with its temples, rivers, and natural beauties.
Want to make a weekend with your friends well Mahabaleshwar would also going to impress you with its hills and natural beauties. The place where you can visit with anyone. The place "Mahabaleshwar" is situated in Satara district of Maharashtra and is the most interesting weekend destination that visitors from Pune and Mumbai can avail themselves in a weekend. This place is also a pilgrimage place because of the river Krishna. The river krishna flows from here thus it is important as pilgrimage place.
The place is just around 120 KMs far from Pune and around 285 KM far from Mumbai. So here in this article we are going to discuss a brief details about a weekend trip to Mahabaleshwar from Pune. We will discuss about the various modes of transportations available to reach Mahabaleshwar. Along with hotels and prices you can get in Mahabaleshwar. Also there will be list of few places where you surely wanna go if you are in Mahabaleshwar.
Reaching Mahabaleshwar from Pune :
Well, there are few modes like railways, roadways which include Pune to Mahabaleshwar by cab or by bus, and another mode is by Airtravel. Let's discuss all of the available modes with the average price and average time requires to reach.
Pune to Mahabaleshwar by Flight :
Well, Pune airport is the nearest airport where you need to book a cab or any modes to reach Mahabaleshwar.
Pune to Mahabaleshwar by Railways:
Wathar is the nearest railway station to Mahabaleshwar, and from Pune you can easily get your train ticket. This two station makes easy for tourists to visit Mahabaleshwar.
We strongly recommend you to visit the IRCTC website for booking a train ticket, to avoid any last minute hassles.
Pune to Mahabaleshwar via cab:
Pune to Mahabaleshwar by cab is the most feasible and affordable option you can choose. The distance from Pune to Mahabaleshwar is around 120 KM and it will take around 3 hours to reach.
You just need to book an affordable and reliable Pune to Mahabaleshwar taxi for your hassle free cab journey. Well, you can head over to taxi booking websites like Gozocabs, Saavari, Makemytrip, etc website for booking. For your Pune to Mahabaleshwar trip, Gozocabs offers a starting price of the cab at 1700 INR.
You can book an affordable and reliable outstation cab all over India for any occasion hassle-free with Gozocabs.
Pune to Mahabaleshwar by Bus :
There are ample bus services available for this route. The bus fare would cost you around 200 INR for one way bus. The time it would take is around 4 hours to reach from Pune to Mahabaleshwar.
We recommend you to visit any online bus booking websites like Redbus, make your trip etc for booking bus online hassle free. You can also visit to your nearest bus depot for booking a bus or confirming about bus timing and more.
Staying in Mahabaleshwar :
After reaching the land of strawberry "Mahabaleshwar" you need some place to stay especially you need to book a hotel. Now we will strongly suggest you not book any hotel on spot, which means don't go searching for hotels after reaching Mahabaleshwar because at the last minute it may cost you a much higher price. So we recommend you to book your hotels in advance from online hotel booking websites like the fab hotel, makemytrip, Oyo, etc, that will save you some bucks as well as you can choose the best hotel according to your like in the place in Mahabaleshwar you want to be.
There are many hotels available according to your price and budget of choice. there are hotels available ranging from 2 stars to 5 stars so you just need to choose accordingly.
Few Places of Interest in Mahabaleshwar :
Here we will discuss about few places of interest that you must need to visit in Mahabaleshwar..
Mapro Garden, Mahabaleshwar : the top visiting tourist place is Mahabaleshwar is this Mapro Garden, Mahabaleshwar. The place is famous for its strwaberries and strawberry products. The garden also have its chocolate factory children's play area whgich makes the Mapro Garden more interesting and more attractive.
Venna Lake, Mahabaleshwar: The lake is man made in the year 1842 by Shri Appasaheb Maharaj, the Raja of Satara. The place is covered with lush green campus. if you want to spend some quiet and quality times with your family r loved ones then this place shoulkd be your must visit place.
Pratapgarh Fort, Mahabaleshwar: Almost all knows that this hill top fort was build by Chattrapati Shivaji maharaj. The place offers great view of surrounding areas. And if you are with your friends or family who can climb up a little hill top then you must need to visit this place.