Fashion
What Is A Babydoll Dress? 9 Tips To Pull It Off
Babydoll dress – a perfect combo of feminine and flirty! Babydoll dresses can comfortably fit across your shoulders but are extremely loose from the bustline down. They are super short, swingy, and perfect for accentuating your bare legs. 
 A babydoll dress is a flirty style. Originally they started as nightgowns, but now they are made for daytime. They are not body hugging that makes them perfect fashion-essentials-to-kick-off-the-season. For summer, it looks adorable and cool too! It is a super trendy style for summer, but wait; you need to be creative while styling it. Make sure it's grown-up enough and doesn't look too much like lingerie.
Incredibly styling tips for pulling off your babydoll dress 
Opt for solid colors to lengthen legs look 
Are you petite? Are you trying to give yourself more illusion of height? Go for solid color from women's online clothing stores as it gives girls a lengthening legs look. It's perfect if you are feeling bold. Printed florals or any other pattern might look too overwhelming for your figure. At the same time, bright hues like cobalt or emerald are perfect!
Tassel earrings for a playful touch 
Tassel earrings manage to give you a youthful feel. It looks playful without fluctuating towards being juvenile. It pairs nicely with the swinginess of a babydoll dress. Let them peek out from your hair. You can leave your hair in loose waves or slick your hair back to a chignon bun for unexpected contrast.
Tie-dye for an unexpected cool look 
Tie-dye trends are the ruling fashion trend. The Black and white option feels like wearing something edgy. It gives you an unexpected but totally cool look that you can certainly opt for in summer. Add a finishing style touch to your outfit by styling it with platform sneakers and sunglasses for an ultimate street style-inspired outfit look.
Show off your tootsie with printed sandals
Cute babydoll dresses are flattering in style due to their short length that accentuates your legs. Cute sandals from Dakota boutique come in monogrammed details with a fun print that gives you a chance to add some flirty style. Enhance it more with the use of accessories like a crossbody bag and a pair of statement earrings that make you instantly ready for date night.  
Be mindful of your undergarments
The short length of a babydoll dress makes it feminine and flirty. It means that it also creates a bit of risk on windy days. When you walk out of the door, to feel more comfortable and avoid any malfunctioning moment – put on a pair of neutral bicycle shorts underneath your dress.
Balance the bounciness by styling your hair
When you walk, babydoll dresses have a fun swing. To add playfulness to your hair, pull hair into a high pony and tease the pieces at the crown of your head. For a little extra fun, add a ponytail extension. Balancing out the bounciness will surely turn heads in the best way.
Add pieces of jewelry to make it super feminine
The sweetness and cuteness of the baby doll dress naturally give you a girly vibe. Play with layered jewelry, hoop earrings that maintain the charm of the dress and don't distract. Finish off the look by styling your hair in loose, wavy hair. And give a bit of lip gloss. All these combinations will surely work no matter what occasion.
Influencer chic with wide brim hat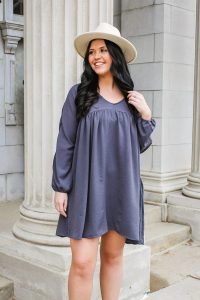 Styling a wide brim neutral-toned hat with a flowy babydoll dress gives you a boho and influencer chic vibe. To style, this airy outfit appropriate for a summer dress, stick to a hat in natural material and a neutral hue. This outfit goes well for your beach days because it helps you cover and protect yourself from the sun. Get yours now from boutique stores online.
Style it with tights when the temperature goes down
Summer won't last long. For fall and winter, you can't leave this super comfy dress. So style it with opaque black tights and pumps or booties. It looks super flattering and also keeps you covered in the cold breeze.
Some of the mistake to avoid 
Keep your accessories minimal.

Avoid opting for lace trim. A babydoll dress with a lace pattern looks like a nightgown. 

Don't wear it too short, as it will only make you look "tarty." 

Shorter styles are suitable for young girls only. If you are above thirty, wear it with a hemline just above the knee.
Short in length, enormous in style! 
Babydoll dresses are small, swingy, and flirty. It leaves an immense impact on your summer style. With the right accessories and flattering colors and styles from online women's clothing stores, you can easily pull it off. It's the perfect staple you can add to your warm-weather wardrobe.