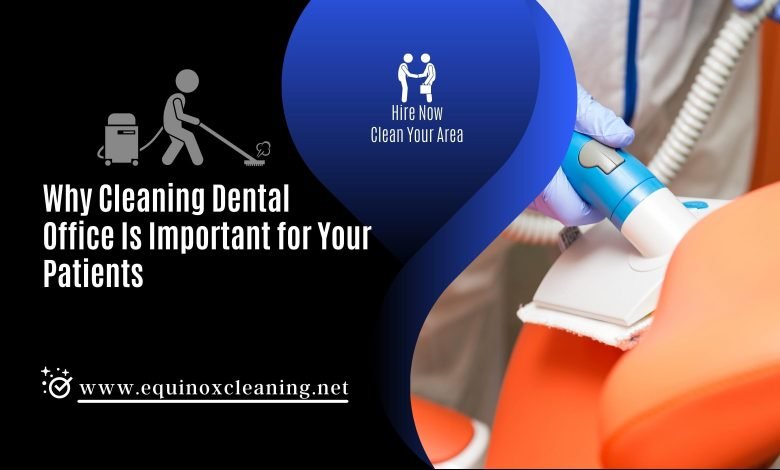 All healthcare facilities must be kept clean at all times, including cleaning dental offices. If dental offices fail to focus on cleanliness, then they may unintentionally turn away patients and staff – and risk the health and safety of those individuals as well.
I would never accept that kind of behavior for any business, let alone a dental practice. If patients observe a practice that isn't committed to keeping the space clean and safe, they will look elsewhere for their dental care needs. They may also share negative reviews online, either directly with others or with other businesses – both of which are real dangers to a business.
Dental practice owners and managers should commit themselves to assure a quality patient experience rather than take a lackadaisical approach. It is not only rewarding for your practice to have such a solution, but it also keeps patients coming back.
This article explains what can be done to maintain a cleaner dental practice, as well as why it is important.
INFECTION CONTROL IN DENTAL PRACTICES
You may increase the risk of individuals in your facility becoming infected with bloodborne pathogens if your dental practice does not pay attention to office cleanliness. In order to meet this requirement, the Occupational Safety and Health Administration sets industry standards for dental practice cleaning activities.
Following are some examples of the mandatory practices that dentists must follow:
In addition to cleaning and decontaminating equipment and surfaces that have been contaminated by blood, saliva, or other dangerous materials, all surfaces that have come in contact with these materials must be cleaned and disinfected.
Whenever a process has been finished or a potentially infectious material has been spilled, it is necessary to disinfect the area.
How do you determine which disinfectant is appropriate? There is a list provided by the Environmental Protection Agency. Patients and employees at dental practices will be protected from infections and diseases with these disinfectants. Most of these cleaners must be registered with the Environmental Protection Agency as a hospital disinfectant, which is recommended to be used in cleaning any surface that has come into contact with a patient.
SAFELY CLEAN UP CHEMICAL SPILLS
Another common occurrence in dentist offices is chemical spills. In order for the facility to be safe, it is important to clean these chemicals quickly and correctly, especially when they are hazardous.
Those disinfectants that have just been discussed are among the hazardous chemicals used in these practices. Other compounds such as anesthetics and alcohol are also frequently used. Occupational Safety and Health Administration standards are in place to ensure the safe handling of these chemicals. A chemical spill response training program should be provided for employees. Employees should be trained to clean up spills and communicate about spills and procedures.
The participants should be shown how to read labels on chemical containers and where to find additional safety information within the facility during this training. Also, employees need to be trained on how to protect themselves when working with dangerous chemicals.
Employees should be trained to use appropriate ventilation during the cleanup, as well as what personal protective equipment to wear, such as gloves, masks, and goggles.
EQUIPMENT AND SURFACE AREAS NEED TO BE CLEANED ACCORDING TO STANDARDS
There are other frequently touched surfaces that need to be cleaned as well. We have discussed how to clean surfaces that come into contact with patients.
It is a good idea to clean light switches and handles that patients or dental workers might touch often. These types of surfaces should also be cleaned with the same chemicals that are used to clean surfaces that have come into direct contact with patients.
Instead of cleaning after each patient, some dental practices use impermeable barriers to protect surfaces. The barriers must be thrown away after every patient if they are being used.
Anything considered a housekeeping surface should also be kept clean at all times. Examples include walls, floors, and sinks. In spite of not being frequently in contact with patients during procedures, these surfaces still have the potential to be contaminated, so they must be cleaned as thoroughly as any other surface on the cleaning checklist.
You should regularly clean your office so that you can reduce the chances that employees and patients will come into contact with infectious materials. Maintaining a clean practice can also enhance the perception of your practice among patients.
USE THE RIGHT DENTAL CLEANING TOOLS
Getting a good, deep clean requires the right cleaning tools. Prepare your office with the tools and equipment you will need to clean up chemicals and complete other housekeeping duties.
These same tools can also become contaminated, so they will also need to be cleaned after usage and then allowed to dry completely. Keeping mops clean may require daily laundering, as some equipment, such as mop heads, need to be cleaned daily. The disposal of other equipment, like disposable towels with disinfectants, is extremely easy.
If you need new cleaning supplies and tools, make sure someone in the office is tracking them and ordering them.
HAVE A WASTE MANAGEMENT PLAN
As dental offices generate a lot of waste. Your facility will need a waste management plan instead of just cleaning up.
Dental amalgam waste poses a particular challenge. But there are other types of waste as well, such as sharps, pharmaceuticals, and x-rays. The way waste is handled, disposed of, or recycled depends largely on best practices and EPA regulatory requirements.
To stay compliant with government regulations in the dental industry, you should partner with a comprehensive solution provider. Equinox Cleaning has been providing dental professionals with these products for more than 20 years.
Call Equinox Cleaning today to learn more about upcoming regulatory changes that could affect your practice. We can help you stay compliant and free you up to focus on helping your patients. Feel free to contact us to get your dental office cleaning services in New Jersey.