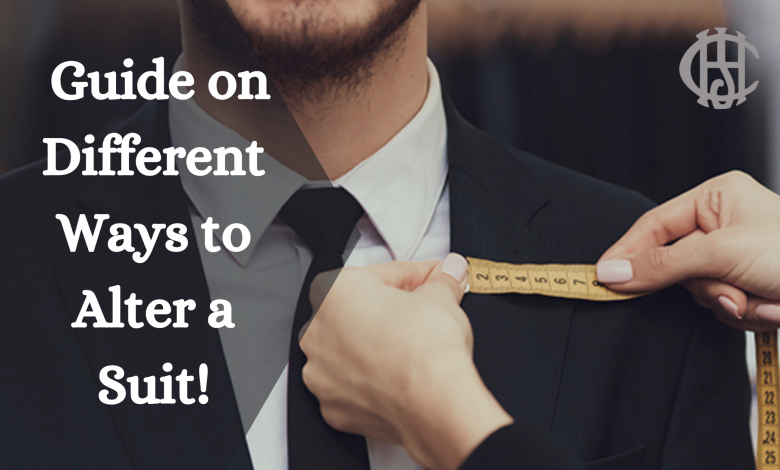 Small alterations aren't the only modifications you need! Every person has a different body structure to flatter and fit a suit perfectly. This is where a tailor with appropriate knowledge and experiences makes a huge difference. So, you don't end up with small and minor alterations.
Alterations become more expensive when it comes to preparing whole made-to-measure suits for upcoming occasions. However, it's also counted as a suitable option for getting a perfectly fitting suit.
Every suit tailor has different criteria to alter a suit. Some professionals first take measurements to adjust a suit according to a person's preferences and expectations. So, they'll sit comfortably when your suit is nicely fitted to your body and down to your sides. Hence, suit alterations are a cost-effective way to obtain a best-fitted suit. That's why we've created this handy guide which tells you everything you need to know about suit alterations and what can be done to change the way that your suit fits.
To understand exactly how your suit should fit, check out our following guide on different ways to alter a suit.
Table of Content
An Ultimate Guide on Different Ways to Alter a Suit
Think About Armhole & Shoulder
Shirts and Suit Collars
Sleeve Length & Jacket Length
Waist Size
Wrapping Up!
An Ultimate Guide on Different Ways to Alter a Suit
Think About Armhole & Shoulder
Preparing a complete suit requires different components and detailed construction to structure a suit according to requirements. While constructing custom made clothing or suits, some areas are difficult to alter successfully to solve fitting issues. Hence, while choosing a suit jacket, it's necessary to pick one that is almost close to your fitting from shoulders and armholes.
Some men experience shoulder divot issues in their jackets. When the shoulder and upper arm don't perfectly sit on the body, small imprints in the fabric and sleeve-seem start appearing. To fix shoulder divots in your suit jacket, it's best to choose one large size that gives more space in the arm and shoulder area. Additionally, the armhole shapes are a little loose that provides enough room to move comfortably.
If the excess fabric assists you in reaching forward 45 degrees conveniently, you're all set. Plus, if you're able to swing your arms over your head comfortably, it means the jacket size is too large. For a tailor, it's quite difficult to alter a suit from shoulders. Therefore, your overall goal should be to find a suitably fitted jacket from shoulders.
Shirts and Suit Collars
Collar roll could be another major fitting issue. An imperfect fit means having a tiny bubble below the neck seam. This is most commonly occurred due to inadequate posture or physical build conflicting with the precise pattern and cut. Unfortunately, it's easy to fix.
For example, the best bespoke tailors in Sydney correct such issues by opening up the collar seam and removing the excess fabric. Another fitting issue to the collar roll is a gap between the back of your jacket collar and shirt collar. In this, the jacket won't move against the shirt. This also occurs due to posture and is easy to fix by opening the neck seam to extend the length of a collar. These alterations are generally required to raise the collar.
Sleeve Length & Jacket Length
Generally, the sleeve and body lengths in jackets are in short (S), regular (R), long (L), and extra long (XL). The jacket should fit around the hands and arms, plus fall perfectly at your knuckles. While trying a jacket without a shirt, you might experience the issue of too-short sleeves. Basically, the jacket sleeves are designed accordingly, so ¼ -½" of the shirt's cuff starts showing beyond the jacket's sleeves. Shorter and longer sleeve lengths also depend on the personal style of men.
If the sleeve length of the jacket is too long or short, you can minimize this fitting issue by choosing a longer or shorter jacket length to avoid alterations. However, if the length is appropriate and sleeves are too short or long, assistance from a tailor becomes necessary.
It's quite easy to alter sleeves length as compared to adjusting the jacket length. That's why you need to choose a jacket length that easily goes with your torso. However, always give preference to an experienced tailor for making alterations and getting a perfect suit.
Waist Size
The jacket contains too many seams at the sides and back. If shoulder and armhole fitting are appropriate according to your size but the waist's size is too small or large, suit jacket alterations provide a custom fit. Having too much tension at the button of your jacket will let out your waist.
Therefore, while choosing the jacket, hold the jacket closed to the desired fit and measure the distance from the centre of the button to the centre of the buttonhole at the front. Select one large jacket that fits you properly from the shoulders, but the rest is too big, don't worry. A tailor can alter the suit accordingly to provide a perfect fit from the waist.
Wrapping Up!
Professionals of a tailor store help you in finding the right fit that makes you look good and feel sharp. There are numerous tailors out there in the market offering alteration services according to a person's measurements. They'll make a detailed conversation about styling and designing a fit suit. Plus, they also collect details of fitting issues and body type to obtain great advice on alteration.