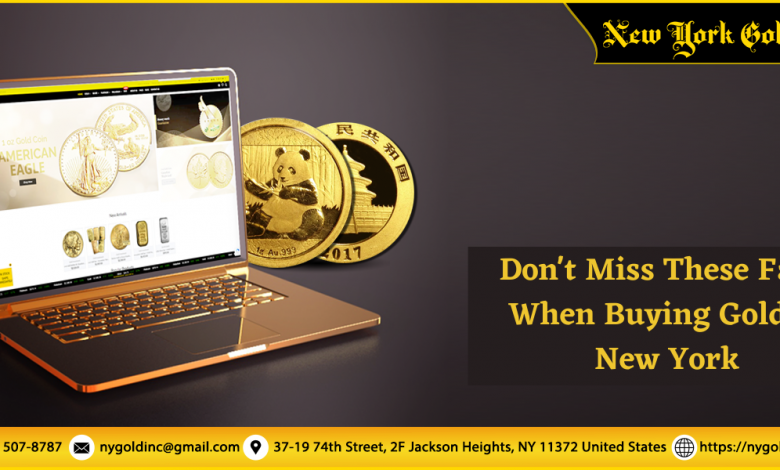 New York is the largest city in the US that is full of life. It's a city of dreams for many people inside and outside the US. It is a city that thrives all the time, and there is no lack of opportunities for talented people. If you are lucky to live in the city or around it, you need to consider investing in gold. There are many reasons why buying gold in New York is a good idea. We have listed them all below. Read on to know the vital facts that you can't miss when buying Gold for Sale in New York.
You Get Tax Exemptions
When buying gold in New York, you should know that you can get some tax relief. Not just gold, it applies to other precious metals like silver, palladium, and platinum as well. However, you will avail of the tax exemption only if the product meets certain criteria, like the threshold of US$ 1,000. It is also essential to remember that the value of the product needs to come from the metal itself, not just its form.
You should also be aware that the product value of gold bullion coins can't be more than 120% of the gold spot price for gold coins. This percentage is 140% for silver and 115% of the spot price for other metals. It is also essential that you buy bullion coins, rounds, or bars only. There are some other exceptions also. Read about them online or consult with a tax expert to know more.
You Have Options
If you want to invest in gold and other precious metals like silver, palladium, and platinum, you will have ample options available to you. First, you need to make up your mind about whether you want a coin or bar. After that, you need to decide what quantity you want and what size.
Post that, you need to figure out whether you want to buy a product with historical value, religious significance, or you would rather go for a simpler option. It would also be good if you have an idea of whether you would want to buy products from a specific mint or any mint will do.
Budgeting Beforehand is Smarter
Creating a budget is vital when trying any new investment. First, you need to create a budget that's realistic and that you can stick to. If you create a too low budget, you might not get the right quantity of investment. In contrast, if the budget is too high, you might end up buying more precious metal products than you planned to.
A smarter move would be to create a budget after observing the spot prices of gold for a few days and reading the descriptions of the products you are interested in. Thankfully, you can do it all from the comfort of your home, and you don't even need to step out for the purchase process unless you want to.
The Purchase Process Can be Simple
When you are done with the steps mentioned above, you will already have some idea of how gold buying works and what amount of which precious metals you want to invest in. Now, you need to know about a trusted precious metal dealer that lets you find the best deals on a 10-gram gold bar online and helps complete the transaction in a hassle-free manner.
One of the most reputed gold dealers in New York you can trust is The New York Gold Company. As it has existed and thrived for more than 30 years, the business is solid, and so are the business practices. The ethical business practices have helped the dealer to get an A+ rating from the Better Business Bureau. The New York Gold Company is also known for offering exceptional products at the best prices and sourcing new products that attract the eye and are worth the price. The company's customer care team is exceptional, and they help every customer through the purchase process. All the products are 100% original and come with an assay card that attests to their genuineness and purity. You can buy them online, offline via phone, or just walk into the store. Call now for more.