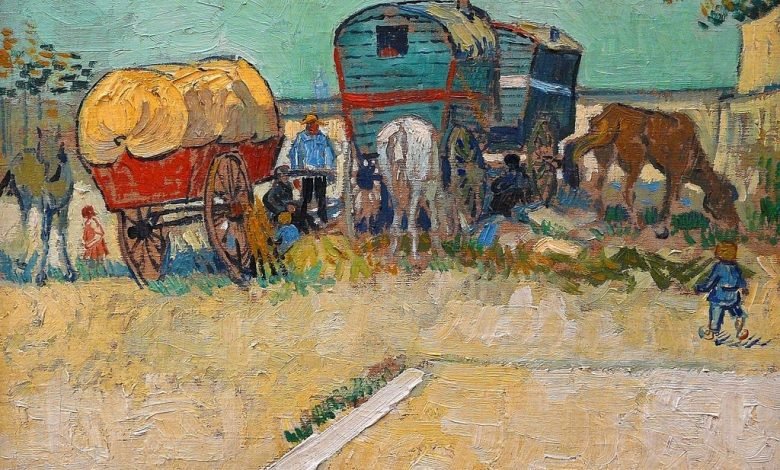 Some people believe that figurative art is more useful for patients than abstract art. Many scientists believe so. However, two Danish scientists (Lowring Nielsen and Michael Finbarr) have doubted this claim. It was realized that abstract paintings have a larger effect on inspiration, reflection, and a person's mental state.
Scientists believed that the images would redirect patients' attention away from the hospital and their illness. They wanted to fill the hospital with paintings of nature, which there aren't many of in the building. They believed that by doing so, they would be able to reduce the level of pain and the number of seizures.
"Encampment of Gypsies with Caravans"
When purchasing a painting or a canvas print for a room where a sick person will be living, avoid paintings with a negative context because such paintings can cause anxiety and stress, worsening a person's illness. The nature depicted on the canvas will evoke only positive emotions and will help the patient mentally connect with the outside world. About abstract art, it was once thought that such paintings could elicit a wide range of emotions, including negative ones.
"Blue Window by Henry Matisse"
Nielsen performed a lot of research and experiments right in hospitals to understand how abstract paintings actually affect patients, she talked a lot with patients, and she came to certain conclusions. Everything turned out to be much more complicated than they had expected.
In one experiment, 100 people were interviewed and shown 20 different figurative paintings borrowed from various museums. People were asked to describe their emotions in a room without paintings and then in a room with paintings. If there was a brightly colored piece of art hanging in the room, people reported having positive feelings.
"Haystack at Giverny Claude Monet"
The second experiment focused on determining the patient's reaction to figurative and abstract paintings, especially whether there is a difference in sensations and emotions. A total of 68 people were interviewed, and artworks by masters such as Wassily Kandinsky and Kazimir Malevich were shown to them. As a result, there is no difference in emotions between figurative and abstract paintings. People expressed positive emotions in both cases.
Conclusion 
In addition, scientists have discovered another positive aspect in the study of paintings by patients – this is a discussion of the picture between patients. As a result, people communicate more and experience more positive emotions. The hospital environment can be depressing because everyone is given the same clothes, everyone eats from the same dishes, and there are gray or white walls everywhere. However, if the walls are decorated with bright, warm paintings, the patient's mood immediately improves.
"Goldfish by Henri Matisse"
Claude Monet's paintings were among those shown to patients, and they had a calming effect on them, allowing them to forget about the disease and not be afraid of anything. They had planned to show Pollock's paintings as well, but changed their minds at the last minute, fearing for the clients' psychological health.
It is not yet clear what effect the paintings have on patients, but it is clear that having any canvases in the rooms is better than having no canvases at all.