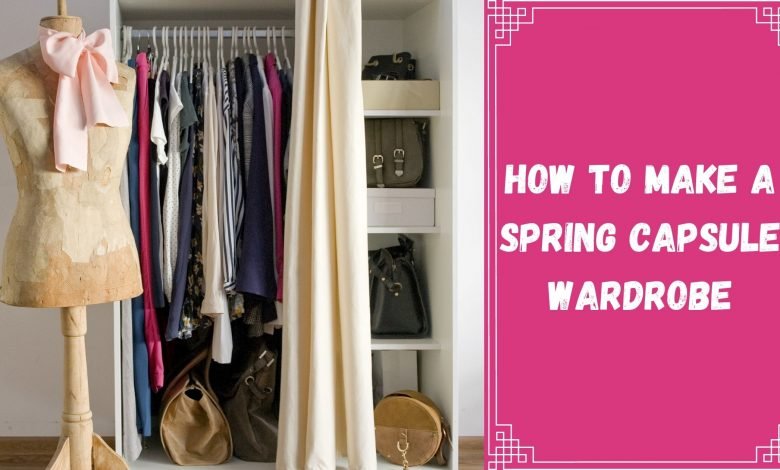 Business
How To Make A Spring Capsule Wardrobe
Women are always in a confused mode when it comes to their clothes. They have everything in their closet but nothing to wear. (We will never understand this thinking!). So, to save you all from this HUGE worry, we are here to help you create a spring capsule wardrobe. It is trending and a timeless concept to create a capsule wardrobe. Also, it is an excellent idea that allows women to have functional, beautiful, versatile wardrobe pieces that put together stylish outfits with ease. 
With the help of an online clothing boutique, now you can spend more time doing what you love and less time grooming through your closet. By investing in these essential pieces for a spring capsule wardrobe, you can feel the vibes of the season without worrying about trends.
What are the key things you need to consider for a capsule wardrobe?
Don't get stressed by the process; we will help you save time and money. There is nothing in the number of pieces to have when they work for your particular lifestyle. The thing is to keep it simple and versatile. Opt for classic, trendy styles from Texas boutiques and use these tips to help you get started.
Consider colors: Colors like neutrals, pastels are good choices for spring. Prints or bright hues can be added for some extra splash of colors, but you can't go wrong with basic season color and timeless neutral hues.
Layering is key: Spring is a fluctuating season when it comes to temperatures. Opt for pieces that fit you well so you can layer them. Keep tees, tanks, light sweaters on hand that will help you create some gorgeous outfits. 
Know what works for the season: Ensure while creating a capsule wardrobe fit, style, and features work well for spring.
Classic denim jeans
Women's denim pants are the most versatile item for a spring wardrobe. Their distinct style you can wear day or night and blend of casual and polished style works great with everything from casual tees to light sweaters to floral blouses. There are various styles available in denim in the southern boutique so that you can maximize your options in different women's bottom styles. Go for these skinny or boyfriend jeans that are great for casual wear, and you can dress them up with an appropriate top. The durability of this denim is superior. Consider white, pastel colors, or light wash denim for spring.
Versatile Mid-Rise Shorts
Mid-rise women's shorts are a relaxed yet polished style you can pull off for your spring wardrobe. It is simple as they are a blank canvas, and you can wear them with any top, be it a print, striped, or ruffle. Wear it with tops tucked in thin belts or untucked tee to dress it down for a pulled-together outfit.
Casual denim shorts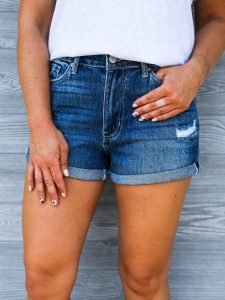 Without denim shorts, spring isn't just spring! The classic staple has a casual vibe when you style it with tees, tanks, button-ups, and much more. There are many options available such as high waist, cuff, and modern washes that keep the style fresh. Having different denim options in your capsule wardrobe can do wonders.
Tees and tank tops
Tank tops and tees are fun and popular options for basic spring wardrobes because of their versatility, comfort, and ease of layering. These classic pieces have great fabric and quality brands that will upgrade their shape over time. Invest in timeless white or pastel and bright options that keep things interesting without assembling too many pieces.
Print and solid blouses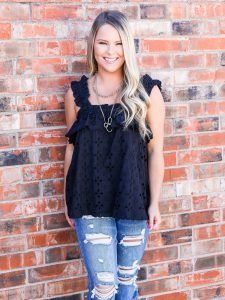 Another top staple you can consider while creating a capsule wardrobe is solid colored blouses from online boutique USA done in button-up styles that create innovative styles with geometric or floral print looks. Blouses look dressier than basic tees, so it's a nice option for your go-to workwear or going out and other occasions. Choose this cute sleeveless ruffle printed blouse style for spring
Stunning spring layering items
As we are familiar with the fluctuating temperature of spring, the wardrobe is not complete without several jackets and lightweight sweaters. You can consider style such as: 
Shirt jackets for your go-to casual looks. 

Lightweight button-up cardigan.

Denim jackets for casual wear to make dressy looks edgier 

Long open front cardigans to style with cropped pants, leggings, or dresses

Pullover sweaters are perfect for indoors when air conditioning raises the chilled temperature.
Key pieces for spring capsules wardrobes make your outfits easy.
Investing in well-designed basic staples that make it easy to put together outfits that make you look gorgeous as well as feel comfortable. Creating a capsule wardrobe for spring helps you spend more time doing things that you love and are passionate about and help you save money in the long run. An online clothing boutique ensures that you have all the components to look fabulous for every spring occasion.