Finance
Spend More Time Before Opening Zero Brokerage Trading Account
Zero Brokerage Trading Account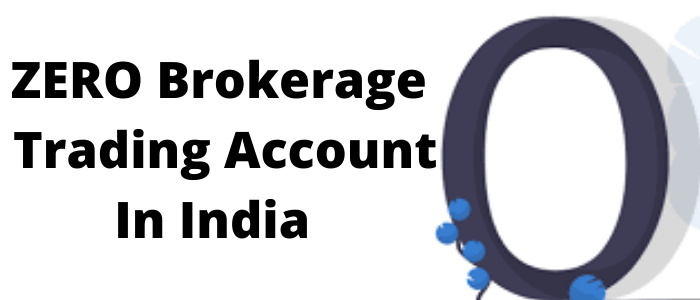 Zero brokerage trading account is a recent buzzword that many of you have heard about. It is a new way of running the broking businesses. It attracts more stock market investors and helps them maximize their profits. Technology advancement and growing competition made the concept of zero brokerage a reality. 
Renowned discount brokers now offer free trading or zero brokerage delivery trading accounts which have intensified competition in the cut-throat broking space. 
Zero brokerage: what does it mean? 
A brokerage fee is applicable on trades for all products other than options in the stock market. The brokerage fee is charged as a percentage of the trade value. 
With zero brokerage trading accounts, traders can place an infinite number of trades irrespective of volume or size in a month. The broker will charge a fixed fee instead of per trade or volume-based commission. It can be a trading account with a monthly or annual brokerage plan.
Let us understand with an example. Suppose a broker offers 1 paisa brokerage on intraday equity trading and 10 paisa brokerage on delivery trading. A trader place two trades:
Buy 1000 shares of Company A at Rs. 960

Sell these Company A 1000 shares at 970 on the same day.
The brokerage will be calculated as follows:
= (1000 * 900) * (0.01%) + (1000 * 920) * (0.01%)
90 + 92
= Rs. 182 in brokerage charges.
Now, let us calculate the brokerage with a zero brokerage model. Suppose the broker charges a flat fee of Rs. 20/trade. The trader places the same two above trades. Based on the flat rate brokerage, the total brokerage fee for two trades will be just Rs. 40.
That is the power of zero brokerage trading accounts.
Benefits of Zero Brokerage Trading Accounts Traders Enjoy
Here are the tremendous benefits of a zero brokerage share market online trading account:
With zero brokerage plans, traders need not worry about trade size. If one finds a position beneficial, they can place a large volume trade at a flat brokerage cost and maximize the profits.

With a zero brokerage model, the break-even point of trades is lower, which increases the probability of a trade.

Free trading platform to be used on desktop, web, mobile, and tablet. 

You can safely trade on multiple stock exchanges in India without any hassled processing. Just log in to your trading account and place trade orders.

Leading discount stockbrokers utilizing advanced technologies offer advanced charting and analytic tools that day traders can use to make profitable trades. 

There are no pesky relationship managers that can take your profits as a commission. 

Trade securely with SEBI registered discount brokerage firm at a negligible trading cost. 

Discount brokers following 100% digital account opening procedures can offer you a flawless experience. 

Intraday traders can utilize the margin trading facility at a low-interest rate. Leverage your margin money with reputed NBFCs at the lowest interest rate, as low as 0.05% a day.

They offer free

online Demat account

s and instant phone and email support to their clients. 
Zero Brokerage Trading
Thus, zero brokerage models have changed the traditional structure. Zero brokerage eliminates scaling charges on equity delivery trading, attracting more long-term investors in the stock market. A flat fee per order traded attracts more day traders. You can make as many trading transactions as you want at a flat rate. 
Players in the zero-broking space are differentiated based on the technology used and the quality of offerings. Generally, active traders focus on the quality of the product rather than the pricing, unlike passive traders. You can consider renowned NBFCs offering the best online trading services at affordable costs against subscription-based brokerage plans and save up to 99% on delivery trading costs and 75% on equity F&O trades with the professional brokerage plan.
Read also:- Algo Trading: SEBI Proposals And Market Concerns
Brokerage charged by Demat accounts
Bonus shares are the extra shares that a company gives to existing shareholders based on shares the shareholder already has from the issuing company. Shareholders receive bonus shares at no additional cost from the issuing company.  
A company may release bonus shares if it fails to pay a dividend to its shareholders even though it has registered profits in a given financial period. It may happen due to a lack of immediate funds with the company.
Although brokerage charges differ from broker to broker, most brokerage firms charge absolutely nothing for bonus shares from investors. Additionally, investors do not need to pay any tax on receiving bonus shares from the company. 
It is because the registrar for the company will add the bonus shares to the demat account of the shareholder's account via the depository directly, and there is no involvement of the broker. 
There is no processing or transfer fee, or stamp duty involved in getting the bonus shares from the issuing company. This is why bonus shares in Demat accounts come with Zero brokerage charges. 
But, better safe than sorry, you should consider enquiring with your brokerage firm regarding the charges before you apply for Demat account with them.