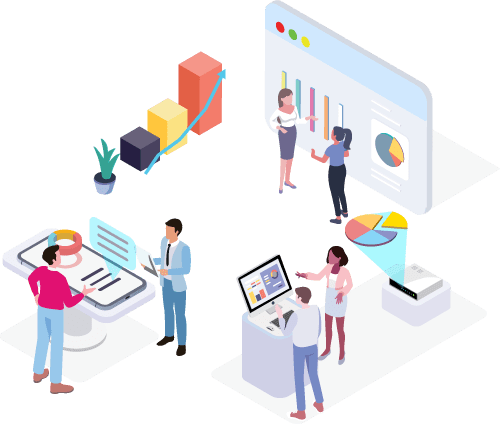 From the past year, the event industry went through a lot. ManyVirtual and hybrid event were cancelled and this led to losses of millions. Thousands of event professionals lost their jobs. However, event technology came to the rescue of the event industry. As a result, we saw various kinds of virtual events. Some of them are virtual conferences, virtual trade shows and virtual career fairs, to begin with.
Now that the world is overcoming the effects of the pandemic, we are seeing the return of live events. But people are still cautious about public health. And that is why we are seeing small scale physical events. But how can one host a live event with a large number of participants without violating the social gathering norms? The answer is Hybrid events.
Step into the world of Hybrid events
Hybrid events are a combination of live and virtual events. They are 2-in-1 events. And there are two different types of audiences, live and virtual audiences. Rather than one single audience.
Hybrid events rely on technology similar to virtual events. They can be hosted using a virtual event platform or a hybrid event platform. These platforms aim to provide experience to the virtual audience similar to their physical counterparts. Now that we know how hybrid events work. The next question that comes to mind is, which events can go hybrid? Let's see.
Types of Hybrid events
You can host any event on a hybrid event platform. All you need is to come up with your event idea and the rest will be taken care of by technology. Here are examples of hybrid events-
Hybrid meetings
Hybrid conferences
Hybrid trade shows
Hybrid Award shows
Hybrid fest
Hybrid fairs
Hybrid exhibitions
Hybrid career/job fairs
Hybrid AGMs
Hybrid town halls
And so on. The list of hybrid events is ever-growing. And we will see new and different types of hybrid events in the future. Now that you know that you can host any kind of event on the Hybrid event platform. It's time to look at how hybrid events stack up against virtual and live events.
Hybrid events vs Virtual events
Hybrid events can be seen as the extension of virtual events. These events host both virtual and physical events. However, hybrid events take place in physical settings. Whereas virtual events are purely digital. And host virtual audiences only. Another notable factor that separates both Hybrid and virtual events is the level of engagement. The virtual events lack face-to-face communication. But this is not the case with hybrid events, as these events are hosted in physical settings. However, to overcome this challenge, many virtual event platforms offer several networking tools and features. But these tools and features are also available in hybrid events. Because the technology for both virtual and hybrid events is essentially the same.
When it comes to convenience, both virtual and hybrid events tie. However, the hybrid event offers more options to the audience for attending the event. One can attend a hybrid event in-person or virtually. And also can attend the event in person and after watching the event if it is available on-demand video. The only other difference is the ease of hosting the event. Here the virtual event wins because it is easy to manage. Whereas you need to keep a tab on both live and virtual audiences throughout the event.
Hybrid event vs Physical events
To understand how hybrid events fair against physical events. Let's look at this comparison.
Hybrid events are much more affordable to organise when compared with live events. The reasons behind this are that you can reduce your expenses with hybrid events. You don't need to book a large venue. And can save money on things like travelling, food and accommodation. Thus making the hybrid events much more cost-efficient.
Hybrid events offer the convenience of attending the event from any location. This means you can save your time required for travelling to the event venue. This is simply not the case with live events. Because you need to be physically present to attend the live event. This means people with a busy schedule cannot attend the live event.
By opting for a hybrid event, you can overcome many constraints that hold back people from attending the event that they are rooting for. Some of the most dominant constraints are time and financial ones. Often people interested in the event cannot attend the event. This is because either they are occupied with work or cannot afford to travel and accommodation. However, with the hybrid events, you can make these constraints non-existent. Hence getting more people at your event.
Another challenge that physical events face is the geographical barrier. It is hard to organise an international event. And getting people from all over the world under one roof. But you don't have to worry about this problem with a hybrid event. Because it allows people from any corner of the world to attend the event. All you need is to provide the international timing of your event. It means you can easily overcome the geographical barrier with hybrid event technology.
If you are choosing a hybrid event over a physical event, you probably get better returns. The reasons for this are reduced cost, a broader set of audience and global reasons. All these perks are absent in a physical event. And even if you want to host an event of a similar scale, you need to spend a lot more money in comparison to the hybrid event. It means the hybrid event offers a better value for money proposition.
Impact on the environment
Usually, in a typical physical event, a lot of resources are used. And large quantities of paper are required for printing the banners, pamphlets and brochures. Whereas with hybrid events you can reduce the consumption of these resources. Hence reducing the carbon footprint.
Another great benefit of hosting a hybrid event is access to feedback. Here the process of collecting the feedback is automatic. There is an option for attendees to submit the feedback form before leaving the event. This is simply absent in live events. You have to deploy your staff to collect the feedback from the attendees in the physical event.
These are the few benefits of hosting a hybrid event. And if you are thinking of hosting a hybrid event, you need to get the right hybrid event platform for your event. Share your thoughts on the hybrid event. What do you think about the future of hybrid events? And how can they change our world?